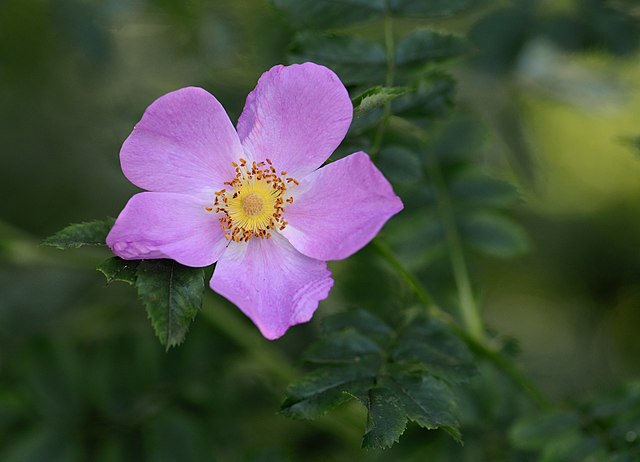 Just for fun, I'm planning to post an irregular series on native planting at Medium. Calling all fellow gardeners and lovers of pollinators in these parts and beyond—advice, corrections, general shooting of the shit welcome. The first installment includes Virginia rose, arrowwood viburnum, various kinds of creeping phlox, some native grasses, and a passing mention of false indigo, about which more soon. Here's the beginning of the first installment:
For the past seven years I've been educating myself, little by little, about plants and trees native to this land of the Lenape people that we call the New York City Borough of Queens. I've experimented with containers, raised beds, and streetside plantings. Inevitably some attempts have been less successful than others. My "pollinator garden" in an old sidewalk tree bed — which I wrote about in a local paper several years ago — hasn't worked out so far despite a few different gambits. But the Virginia rose I started in a large backyard container a couple years ago is big enough now that it's newly transplanted to the front yard, along with a native blue wild indigo (baptisia australis) and a couple of (non-native) Zephirine Drouhin and a dwarf lilac.

A hardy native rose on a list of plants recommended by the New York State Department of Environmental Conservation, the Virginia rose is similar in appearance to the swamp rose, which is increasingly common in the city's official streetside plantings near my beloved Forest Park. Both the Virginia rose (virginiana rosa) and the swamp rose (rosa palustris) have gorgeous pink blooms with yellow centers that provide nourishment for pollinators in summer and give way in the fall to shiny red rosehips that offer food for songbirds long into the winter. Virginia rose prefers full sun and slightly acidic sandy or loamy soil, but judging by what I've read and all the places I've seen it flourishing, it's pretty adaptable. It's salt resistant and has some level of drought tolerance. Last summer's extended dry spell didn't seem to faze mine at all. These plants grow to be four to six feet tall, so that's something to keep in mind. A small container won't work, and pruning will be necessary over time in a larger container. You'll want some heavy-duty rose gloves to navigate the thorns.
Image shows a Virginia rose, by Alvesgaspar (2013).