Bio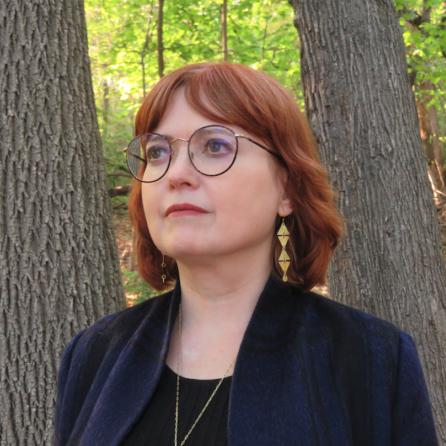 Maud Newton is a writer, critic, and editor. Ancestor Trouble: A Reckoning and a Reconciliation (Random House), her first book, has been called "a literary feat" by the New York Times Book Review and a "brilliant mix of personal memoir and cultural observation" by the Boston Globe, praised by Oprah Daily, NPR, the New York Times, and many others, and named one of Esquire's best books of 2022.
Newton's work has appeared in the New York Times Magazine, Harper's, the Guardian, Esquire, Narrative, Harper's Bazaar, the New York Times Book Review, Oxford American, Time, the Wall Street Journal, Curbed, Granta, and many other publications and anthologies, including Best American Travel Writing 2015 and the New York Times bestseller What My Mother Gave Me. Newton is a recipient of the Narrative Prize, and the Stark Short Fiction Prize. She has been a Yaddo resident.
She has discussed ancestors and family history with NPR's All Things Considered, the New York Times Book Review podcast, American Ancestors (New England Historic Genealogical Society), WNYC, the Dallas Morning News, and many others. Among other lectures and visiting writer conversations, she was featured in the Pittsburgh Contemporary Authors Series, was a visiting writer at Butler University, and participated in "Ancestor Trouble: A Religious and Political Dialogue" with Rabbi Tamar Manasseh for UC Davis Jewish Studies/Religious Studies. Her fiction has been praised by the New Yorker online.
Newton was born in Dallas, grew up in Miami, and graduated from the University of Florida with degrees in English and law. She has lived in New York City for since 1999. In May 2002, she started blogging, with the aim of finding others who were passionate about books, culture, and politics, and to write about her life and family. Within a few years, her site had been praised, criticized, and quoted in the New York Times Book Review, Forbes, New York Magazine, the Washington Post, the New York Times, the Guardian, the Telegraph, the Wall Street Journal, Poets & Writers, and the New Yorker, among many others. Newton blogs less frequently nowadays but sends her Ancestor Trouble newsletter every month (or so). You can also follow her on Twitter, Instagram, and Medium. She maintains a Facebook page. All opinions shared on this site, and in those venues, are her own.
Her agent is Julie Barer of The Book Group. Maud is a nickname. Her pronouns are she/her. She is married to the artist Maximus Clarke and has a stepdaughter, two dogs, and three cats. She lives on Lenape land in New York City.