The Smart Set: Lauren Cerand's weekly events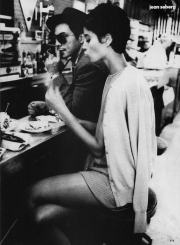 The Smart Set is a weekly feature, compiled and posted by Lauren Cerand, that usually appears Mondays at 12:30 pm, and highlights the best of the week to come. Special favor is given to New York's independent booksellers and venues, and low-cost and free events. Please send details to Ms. Cerand at lauren [at] maudnewton.com by the Thursday prior to publication. Due to the volume of submissions, events cannot be considered unless the date appears in the subject line of your message.

Maud kept me out late last night and then we talked on the phone even later; she's wild, that one. But you knew that, and you're not surprised that The Smart Set is a little light on its feet today.
Here's what looks good to me in the next two weeks, as I can't really be bothered to do anything but read dirty poetry on Bookkake at the moment.
TUE, MAR 10: Ben Greenman reads from his writing about music, mainly in the form of "a weekly 'investigative advice' column for the beloved mp3 blog Moistworks," as part of the KGB Nonfiction Series, along with Mickey Hess (Big Wheel at the Cracker Factory, Is Hip Hop Dead? and Icons of Hip Hop) [Full disclosure, as always: Ben is one of my publicity clients]. 7PM, FREE.
FRI, MAR 13: Laura Lippman fetes her latest, Life Sentences, with a party at Powerhouse Arena in DUMBO. 7PM, FREE.
SUN, MAR 15: Lizzie "Elizabeth" Skurnick reads from Check-in — which I once bought a dozen copies of, and then resold them in ten minutes, it's that good — on Sunday evening at KGB, along with John Reed and Amy Koppelman. 7PM, FREE.>
THU, MAR 19: Jerry Stahl, who has a new blog called "Post Young" at the Rumpus ("But fuck it, I need to share.") reads from his new novel, Pain Killers, as part of the St. Marks Bookshop Reading Series, at Solas. 7:30PM, FREE.
ONGOING: "Building Code," the current exhibition of paintings on view at jen bekman, explores construction as a metaphor for minimalist abstraction among other things. The artist was inspired to turn to building sites after spending years painting suburban sprawl, which she photographed at an aerial view from a hot air balloon. Through April 4.
UPCOMING: The NYC Teen Author Festival, featuring Judy Blundell (What I Saw and How I Lied), David Levithan (Nick & Norah's Infinite Playlist), Justine Larbalestier (Magic or Madness), Scott Westerfeld (Peeps), Cecily von Ziegesar (Gossip Girl), Matthue Roth (Losers), Blake Nelson (Paranoid Park), and many others.