Lincoln memorabilia fiesta for Presidents' Day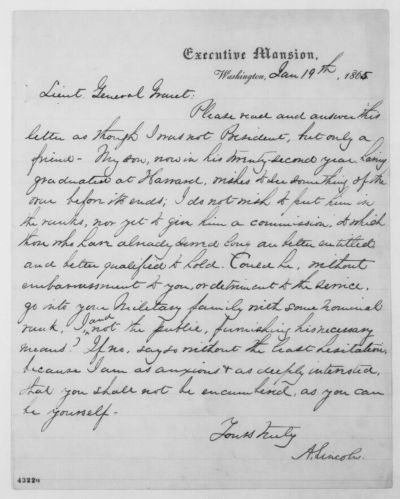 The Library of Congress is celebrating the bicentennial of Lincoln's birth with a special exhibition of his most famous writings and relics (that aren't lost to time).
For those of us not in D.C., the library digitized some of its Abraham Lincoln Papers a few years ago, and you can browse them online.
All three series … are of a document type called "General Correspondence," which includes both incoming and outgoing correspondence and enclosures, such as reports, pamphlets, newspaper clippings, extracts, and copies of items. General Correspondence can also include memoranda, notes, drafts of speeches and like matter, created independently of correspondence and filed chronologically.
Pictured above is Lincoln's January 19, 1865 letter to Ulysses S. Grant.
Elsewhere, curator of photography Carol Johnson has assembled a Flickr collection of Lincoln images, from the earliest known likeness in 1846 to shots of his funeral. The Law Library of Congress has made available some of its own holdings. And even Marvel Comics will mark the occasion.