The Smart Set: Lauren Cerand's weekly events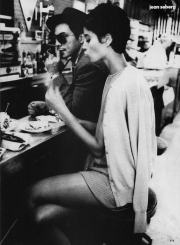 The Smart Set is a weekly feature, compiled and posted by Lauren Cerand, that usually appears Mondays at 12:30 pm, and highlights the best of the week to come. Special favor is given to New York's independent booksellers and venues, and low-cost and free events. Please send details to Ms. Cerand at lauren [at] maudnewton.com by the Thursday prior to publication. Due to the volume of submissions, events cannot be considered unless the date appears in the subject line of your message.

MON, FEB 16: "Slow and Steady Wins the Race is a clothing label presented as a quarterly clothing diary: past editions: sunglasses, shoes, sweats, pockets, etc (you need it). Beginning at 7pm on February 13th for one week, Slow and Steady Wins the Race presents 'Birthday' for its 21st collection – piñatas, birthday cakes and even some bubbly, very fun and very brilliant." At Kiosk.
TUE, FEB 17: Buzz, buzz, buzz, I want to see Gomorrah.
WED, FEB 18: Janice Erlbaum, Rob Sheffield and others do the MIXER series [Full disclosure, as always: I publicized JE's Have You Found Her] at Cakeshop. 7PM, FREE. In Brooklyn, Jonathan Baumbach reads from YOU or The Invention of Memory at Brooklyn College in the Barker Room (2315 Boylan Hall) [Full disclosure, as always: I am JB's publicist]. 6PM, FREE.
THU, FEB 19: Idlewild Books says, "Join us for Russian vodka, music and hors d'oeuvres as we celebrate the launch of Russia! magazine's new daily lit blog, ReadRussia.com. Just like Russia! magazine, this addictive new website is an independent source of irreverent coverage of all Russia-related topics — and as many of you already know, we make a mean vodka punch! Party sponsored by Jewel of Russia. Please RSVP to events@idlewildbooks.com" [Full disclosure as always: Idlewild Books is one of my publicity clients]. In Brooklyn, Freebird Books says, "Kathleen Rooney and Kyle Minor visit us as part of their national tour, reading from their new books Live Nudge Girl and In the Devil's Territory." Highly recommended. 7:30PM, FREE. Also in Brooklyn, at Word, "Encounter with author Jeff Gordinier (X Saves the World), interviewed by Danielle Sachs. X Saves The World: How Generation X Got the Shaft But Can Still Keep Everything From Sucking is a vibrant and ironic chronology of '90s culture,a book that willring true to anyone who was moved by Nirvana or exhilarated by Pulp Fiction." Does that mean we can call it Grungepoint? 7:30PM, FREE.
FRI, FEB 20: Gotham Chamber Opera's new production, "L'isola disabitata had its premiere at the Esterhazy palace in 1779 and was Haydn's favorite of his own operas." February 18-28.
WEEKEND: KGB is hoppin'– Nick Antosca celebrates the release of Midnight Picnic on Saturday, Sunday sees Suzanne Dottino's Fiction Night, dazzling as ever.
ONGOING: Check out the Afrikan Poetry Theatre.