Jessa Crispin's Irish brown soda bread
Has anyone done more in the past six years to foster reading than Bookslut founder Jessa Crispin? What started as a blog and monthly magazine written and edited on the clock at Planned Parenthood has grown into a full-time gig that leaves Crispin plenty of time to read, to write about reading, and to endure dreadful publishing events filled with people "pulling wheeled suitcases that they will gleefully roll over your toes." (If you think the London Book Fair sounds romantic, follow that link and have your illusions shattered.)
Now she's also test-driving recipes. "Cookbooks can force you into moments of great vulnerability," she observes, before confirming what you've always suspected: that the slickest celebrity chef volumes aren't tested before "being slapped with a $35 price tag and shipped off to bookstores." Below Crispin shares one of her own standbys.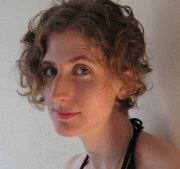 When I lived in Cork, Ireland, there was a small bakery that sold the best brown bread. It wasn't the traditional brown bread, which is made only of whole wheat flour, oats, buttermilk, salt, and baking soda. That particular form of torture taunted you with its earthy aroma and the way it crumbled in your mouth when pulled from the oven and immediately slathered with butter and jam. An hour later it had the texture and flavor of a rock. Then the only thing you could do with it (besides throwing it at the small children yelling outside your window) was chip off wedges to scoop the last bits of egg yolk, baked bean sauce and rasher grease into your mouth without directly licking your breakfast plate.
In the ten years since, I occasionally tried recipes for brown bread but ended up mostly with rocks, and hardly ever with the crumbly, moist bread with a crust so thick you could tip the loaf onto its cut side and leave it out overnight. It couldn't be so hard to find a bread with a shelf life of over an hour, could it?
My sister gifted me with the cookbook Irish Puddings, Tarts, Crumbles, and Fools by Margaret M. Johnson, which also included a recipe for brown bread. I gave it a shot, and was pleasantly surprised. It was almost exactly the bread I remembered and loved. Over the years I've made this recipe a hundred times. There's half a loaf sitting on my countertop right now, cut side down. Here is my slightly modified version of Johnson's recipe:

Kinsale Brown Soda Bread
4 cups whole wheat flour
1/2 cup quick cooking (not instant, nor steel cut, unless you want to break a tooth) Irish oatmeal
1/4 cup wheat bran
1 teaspoon baking soda
generous pinch of salt
1 1/2 tablespoons honey
1/4 cup olive oil
1/4 cup canola oil
2 cups buttermilk
Preheat the oven to 400 degrees and grease a 9×5 inch loaf pan.
In a large bowl, mix flour, oats, wheat bran, baking soda and salt. Make a well in the dry ingredients and pour in buttermilk, oils, and honey. Whisk the wet ingredients, gradually incorporating the dry as you go. Switch to a wooden spoon when your whisk gets clogged. Stir until dough forms, then switch to your hands and knead. (You can do this directly in the bowl, save yourself the countertop mess.) Form into a loaf, put in pan, and bake for about 50 to 55 minutes.
There's no need to eat it directly from the oven, since this one actually keeps for a couple days, but just try to stop yourself. Serve with salted butter and jam.