The Smart Set: Lauren Cerand's weekly events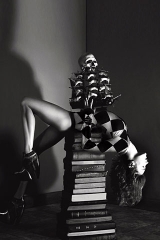 The Smart Set is a weekly feature, compiled and posted by Lauren Cerand, that usually appears Mondays at 12:30pm and highlights the best of the week to come. Special favor is given to New York's independent booksellers and venues, and low-cost and free events. Please send details to Ms. Cerand at lauren [at] maudnewton.com by the Thursday prior to publication. Due to the volume of submissions, events cannot be considered unless the date appears in the subject line of your message.
UPDATED: See also Zadie Smith & Co. to benefit 826NYC, "The Movie Night Disco Presents: Alan Partridge: Select Episodes," and, if, like me, you're willing to sit through two hours of grim morality tale for ten minutes of scathingly hot sex against the stacks, make haste.
MONDAY Jan 14: The Poetry Project presents Jeni Olin and James Hoff. 8PM, $8. At Galapagos, Monday Night Burlesque presents Darlinda Just Darlinda. And, "'Glimpses of the Moon' is the first original musical created specifically for the intimate wood-paneled Oak Room of the Algonquin Hotel…It is one of Edith Wharton's few comedies, though not without its share of heartaches."
TUESDAY Jan 15: "Let's start by getting clear on what weakness of the will is…" Agnes Callard discusses "Two Ways to be Moved" at NYU. Presented by the Philosophy Department. 4PM.
WEDNESDAY Jan 16: Rick Whitaker's SIP LIT, "a monthly series of readings in a café," presents Dorothy Gallagher and Karl Roloff. At Sip, 998 Amsterdam Avenue between 109th and 110th Streets on the Upper West Side. Highly recommended. 8PM, FREE. In Brooklyn, Bookcourt hosts an appearance by debut novelist Evan Fallenberg for Light Fell, "A story about fathers and sons, faith and sexuality." 7PM, FREE.

THURSDAY Jan 17: The Metropolitan Museum of Art says of its new exhibition, blog.mode: "Inspired by both the immediacy and the democracy of the blog format, this exhibition is intended to provide a platform for the opinions of our visitors—both in the galleries and online." Downtown, Anthology Film Archives screens Reha Erdem's "Times and Winds/Bes Vakit" — "The director's fourth feature recounts the dreams and desires of villagers whose simple lives are regulated by the calls to prayer that divide the day (and the film) into five sections (the Turkish title literally translates as 'five times')."
FRIDAY Jan 18: Girls Write Now's 10th Anniversary Winter Reading promises an evening with young writers and the women who inspire them, at downtown landmark John Street Church [Full disclosure, as always: I helped put together this event]. 7PM, $10 suggested.
SATURDAY Jan 19: As good as it gets for me on a Saturday night… "Balanchine's World" at the New York City Ballet.
SUNDAY Jan 20: The first Sunday Salon of the year features Ellis Avery, Carol Novack, Nicole Fix and Ann Vogle. I am a big fan of reading series in neighborhoods otherwise underserved by them (in this case, East Williamsburg), so this one's highly recommended, too. At author-owned Stain Bar. 7PM, FREE.