Liz B. on Portland Maine's Casco Bay Books
While I focus on things other than blogging this month, I'm running a series on independent bookstores. Below Liz B. praises Portland, Maine's Casco Bay Books.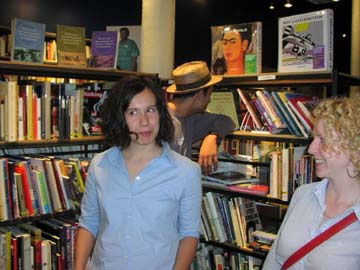 A few years ago, I moved from Portland, Maine, to the other Portland, you know, the one with Powell's. I live in the city that houses one of the most amazing bookstores in the country, and yet I still long for Casco Bay Books.
Their selection is small, but perfectly curated– to the extent that I've never seen a book there that didn't intrigue me. They have both used and new books, and a fantastic selection of small-press titles. Also, they couldn't be nicer.

Image of random people swiped from the store's website. If you'd like to see your favorite bookstore mentioned, send email to bookstores [at] maudnewton [dot] com telling me about it. Please include a photo or a link to one.
Update: Matthew Tiffany of Condalmo writes, "I agree wholeheartedly about CBB being a great store – sadly they closed for business a couple of months ago. There's also Longfellow Books, though, and they're dynamite."