Justine Larbalestier on Buenos Aires' El Ateneo
While I focus on things other than blogging this month, I'm running a series on independent bookstores. Below blockbuster YA author Justine Larbalestier praises the magnificent El Ateneo of Buenos Aires' Barrio Norte.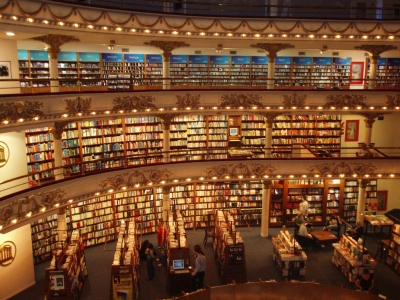 The most beautiful bookshop I have ever seen is El Ateneo in Buenos Aires. It's a refurbished grand theatre and as you can see from this photograph it's jaw droppingly gorgeous.
My Spanish is not that good. The most I can manage to read are fairy tales for children and mostly only if I already know the stories. But at El Ateneo I found myself compulsively buying books that I would probably never read. Anything to prolong my time there.

Image taken from Proserpina. If you'd like to see your favorite bookstore mentioned, send email to bookstores [at] maudnewton [dot] com telling me about it. Please include a photo or a link to one.