James Tata on Portland's Powell's Books
While I focus on things other than blogging this month, I'm running a series on independent bookstores. Below writer James Tata praises Powell's Books of Portland, Oregon.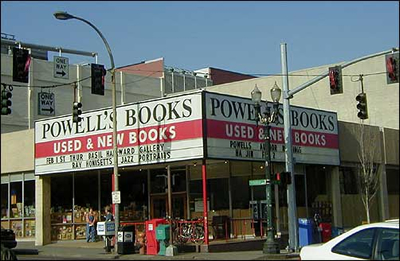 It's not too much of a stretch to say that I live in Portland because Powell's Books is here.
When I first visited Portland as a tourist in the early 90s, the Pearl District was still an industrial area of warehouses and auto body shops where visual artists had found cheap spaces for studios, apartments, and galleries. Powell's occupied an entire city block on the district's edge. At that time the bookstore's immediate neighbor to the west was the Henry Weinhard Brewery — not a boutique brew pub, mind you, but an industrial brewery that made the whole area smell like cooking oatmeal. I still remember one of the books I bought on that trip — a copy of Samuel Beckett's first and until then unpublished novel, Dream of Fair to Middling Women.
Of course it's an old story, the grubby neighborhood discovered by artists and then gentrified by the city using "redevelopment funds," and this is what has happened with the Pearl, now home to luxury "lofts," expensive bars, and tony shops. The brewery is long gone, replaced by high rise apartments. Powell's, however, remains. Still owned by the Powell family, the bookstore has survived into the era of Amazon and the ubiquitous chain store by developing its own internet presence and by not being afraid to expand into a local, Portland chain directly competing with the national chains. Much has been made of Powell's early innovation of shelving new and used books together, but what continues to amaze me is the generous helping of remainders, which amounts to still a third category: recent hardbacks at paperback prices. For superlatives about the store's massive size, you are well served by the store's information page.

Shopping for books is an intensely personal act, at least for a bookish person. For all the blogs and reading groups and writing classes out there, reading and its close cousin writing remain intensely solitary activities, anachronistically so in extroverted, image-loving America, and the act of purchasing books retains more than a bit of the privacy surrounding their consumption. Even when Powell's is crowded — and it gets crowded on those drizzly Pacific Northwest weekends — you can go to an upper floor and always find empty aisle after empty aisle with books stacked higher than you can reach. It's the near comical abundance of the place that makes the store's character so different from the charismatic nighttime bustle of far smaller urban independents like, say, Kramerbooks in Washington DC.
Which isn't to say it's all introversion at the store. It's a sought-after venue for readings, and I've been lucky enough to listen to and ask questions of Susan Sontag, Martin Amis, Edmund White, Nathan Englander, Julie Orringer, and John Carey, to name a few. The ground-level cafe has plate glass windows looking out onto Burnside, Portland's main drag and the gritty antithesis of the bordering Pearl. The cafe is a good place to sit with friends or eccentric weirdos who come in off the street. If it's the latter, just pretend to be absorbed by your reading.

If you'd like to see your favorite bookstore mentioned, send email to bookstores [at] maudnewton [dot]com telling me about it. Please include a photo or a link to one.