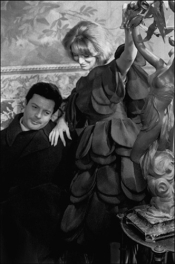 THU, MAY 22: Last week a friend texted me to ask what he should do with a layover in Brussels. "Go see The Death of Marat," I replied. Do you have a favorite painting in New York? Email me (address above) and I'll share your suggestions in next week's edition of The Smart Set. I am always seeking that moment of discovery. In the meantime, "Nepal in Black and White" at the Rubin Museum intrigues…
FRI, MAY 23: At Issue Project Room, "David Ohle will be making a very special and somewhat hyped appearance at IPR this Friday in support of his new novel from Soft Skull/Counterpoint, The Pisstown Chaos. Brian Evenson will be coming in from Providence to join him. Music will be provided by Nat Baldwin, who's recorded with everyone from the Anthony Braxton to The Dirty Projectors. Should be a great night and we're just trying to get Ohle as big a crowd as possible since he's flying in on his own dime," says friend of The Smart Set Tony Antoniadis. Highly recommended. 8PM. And, "Spaces of Negotiation," featuring the Berlin-based group of architects ifau and Jesko Fezer, opens at Ludlow 38 on Firday night, with a special event on Saturday night [Full disclosure, as always: one of my PR projects].
WEEKEND: C-h-i-l-l-a-x.
See also: Chicago, where I'm off to the Pilcrow Lit Fest!