Artifact casts doubt on Christian God's homophobia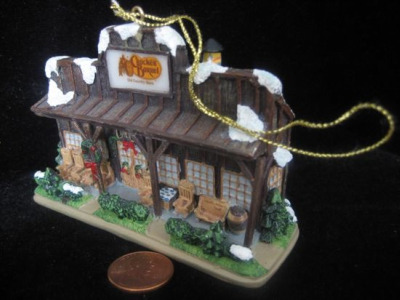 Joshua Glenn and Rob Walker created the Significant Objects project earlier this year to prove the theory that a writer could invest an otherwise worthless object with value by making up a story about it.
That's my object, above, and you can find out its (invented) provenance at the Significant Objects site. A preview:
This astonishing "Cracker Barrel" artifact appears to be a souvenir of modern vintage, representing a down-home North American restaurant-and-country-store chain that upholds Christian values by refusing to hire gay people. In fact, the object dates to the Bronze Age and was unearthed last week in the vicinity of the Dead Sea, on what is believed by several prominent archaeologists to be the site of the ancient cities of Sodom and Gomorrah.
The rest is here, and at Ebay. By default, proceeds from the sale go to the author, but I'll send whatever this object garners to Girls Write Now, a nonprofit organization I support (and serve on the board of).

Prior Significant Object contributors include Colson Whitehead, Aimee Bender, Jennifer Michael Hecht, William Gibson, Laura Lippman, Lizzie Skurnick, Nicholson Baker, Stephen Elliott, Todd Levin, Ben Greenman, Terese Svoboda, Shelley Jackson, Rosecrans Baldwin, Katharine Weber, and Matthew Battles.
The site will also feature contributions from Victor LaValle, Jonathan Lethem, Mark Sarvas, Jonathan Ames, and others.