Skurnick on teen classics we never stopped reading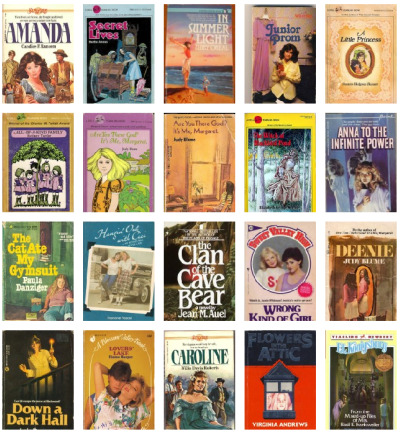 Shelf Discovery, inspired by my friend Lizzie Skurnick's relentlessly entertaining Jezebel column, Fine Lines — "in which we give a sentimental, sometimes-critical, far more wizened look at the children's and YA books we loved in our youth" — is just out.
The book collects Lizzie's insights on classics like The Long Secret, My Darling, My Hamburger, Jacob Have I Loved, and The Secret Garden in one place, and features contributions from Laura Lippman, Margo Rabb, Anna Holmes, and others.
To win a copy, head over to Jezebel and try your hand at identifying cover images from old editions of the books. The ones above are taken from the Shelf Discovery gallery. You might find some clues there.

Here's a brief excerpt from one of Lizzie's latest columns, on that perennial favorite, Are You There God? It's Me, Margaret:
Are you there God? It's me, Margaret. We're moving today. I'm so scared God. I've never lived anywhere but here. Suppose I hate my new school? Suppose everyone there hates me? Please help me God. Don't let New Jersey be too horrible. Thank you.

Don't let New Jersey be too horrible….was there ever a greater metaphor for the terror one feels at the onset of pubescence? (I'm from Bergen Country and live in Jersey City — so no haters, please.) But, in her merest, timid request, the person of Margaret Simon, the character who introduced young girls everywhere, and I do mean young girls everywhere, to the notion of getting their periods, puts her finger exactly on how it feels to start to grow up. It's not like an exciting trip to Radio City Music Hall with Grandma. It's a long, featureless ride in the other direction, culminating in a blank exit ramp off a highway into a town without anyone you know.