Love is a Four Letter Word events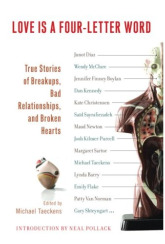 Later this month and a couple times in the weeks following I'll be reading from "Conversations You Have at Twenty," my contribution to Love is a Four-Letter Word.
Today at Paper Cuts, Gregory Cowles calls the anthology "pretty irresistible." A "lot of it has to do with the tone," he says. "[T]he usual regret, shame and pain are leavened here with a generous tablespoon of wry humor."
The launch party is July 29 at Housing Works, and I'm appearing alongside Saïd Sayrafiezadeh, Amanda Stern, and Wendy McClure. The very funny Dan Kennedy hosts.
Anthology editor and contributor Michael Taeckens has staggered more events through the end of the summer. Writers reading at those include my pal D.E. Rasso (see Susan Toepfer's praise) and Michelle Greene, Josh Kilmer-Purcell, Jennifer Finney Boylan, Jami Attenberg, Taeckens himself, and more.