Tunneling to the Center of the Earth giveaway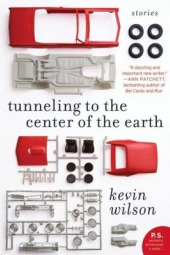 Kevin Wilson charmed Happy Ending-goers last week with "The Choir Director Affair (The Baby's Teeth)," a darkly funny story that revolves around an otherwise normal infant with a full set of choppers, but is, in a larger sense, about desire and thwarted possibility.
Wilson's fiction maps the disconnect between obsessive longing and, for lack of a better word, fate. Sometimes the relationship between the two is an inverse one, possibly of cause-and-effect: the harder you beg your lover to reassure you she'll stay, the more likely she is to walk out the door.

Writing for the NYTBR, Robin Romm draws a glancing comparison between Wilson's new collection, Tunneling to the Center of the Earth, and the work of George Saunders. The difference, she says, is that Wilson "isn't aiming for satire; the pressure of living in a distorted society isn't his most pressing concern," and his "true gift is for depicting the dangers of strong, complex emotions."
I discovered thanks to the end notes that the author's favorite of his stories is the same as mine: "Worst Case Scenario." The narrator, having "learned all the ways that things fall apart," works for a company that businesses and neurotics alike hire to quantify their risk of disaster. Some of the questions for a "child-in-the-home" case:
8. Do you and/or your spouse have an alcohol and/or drug problem?

97. Do you ever put your child down and then forget where he/she is for more than a few hours?

256. Have you ever dared your child to do something you would not normally do?
Most people answer the 300-question survey honestly. They, like the narrator — who's convinced that he's going bald and his girlfriend will, consequently, dump him — want to know how it'll turn out in the end.

If you'd like a signed copy, and you haven't won one of my giveaways in the past, email me at maud [at] maudnewton [dot] com before 11:59 p.m. ET tomorrow (4/8), with "Tunneling" in the subject line. All entries will be assigned numbers based on the order received, and the randomizer will choose a winner. Kim Adams of Columbia, MO, wins the copy.