Stephanie Keith documents the life of a Voodoo priestess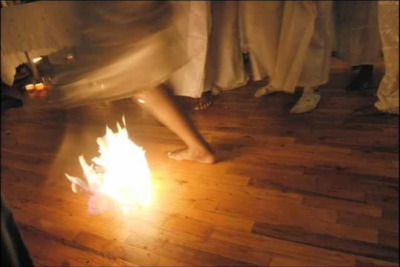 Photographer Stephanie Keith has a sharp eye, a frank and unpretentious manner, and a vigorous, roving curiosity. For the past several years, she's been documenting Voodoo ceremonies in Brooklyn's Haitian community. Her early work in this area (captured in a 2007 NPR slideshow from which the image above was taken) centered on a priest Keith trailed, at his invitation. When he moved away, she started working with Marie Carmel, a priestess.
Carmel will be the subject of her brief presentation at the Powerful Women event — devoted to unusual manifestations of female power, and also featuring novelists Marlon James and Marie Mockett — that I've put together and am hosting tomorrow (Friday) night at Housing Works. Below Keith answers a few questions.

You were working with a male priest when you started out, but now you're focused on a woman. Do people (and the spirits) interact with her differently?
The first Voodoo priest, called a Hougan, moved to Miami, so now I work exclusively with a woman priestess, called a Manbo. Her name is Marie Carmel. A Hougan and a Manbo can do the exact same things; there is no differentiation between sexes in Voodoo. The Spirits interact differently with personalities rather than if a person is a man or a woman.

Does her role as a figure of authority extend beyond the supernatural sphere?
She grew up with her grandmother in Haiti and her grandmother was a Manbo there. My sense is that she is a born leader. She is an imposing physical presence who has a great deal of self-confidence. Her life as a Manbo is a 24 hour affair — she cannot separate her personal life from her spiritual life. When not performing Voodoo ceremonies, she is giving advice, interpreting dreams, and being the center of a big social scene which is basically her Voodoo family — those whom she has initiated.

Are there particular rules that a Manbo must abide by outside of ceremonies, or does she get to structure the rest of her life any way she wishes?
She can structure her life any way she wants. She just needs to be available to the community if they need her. She also makes her living doing spells, baths and whatnot, so she needs to work enough as a priestess to support herself.

Does a Manbo face any of the cultural hang-ups Western women — especially female religious leaders and figures — do about sex? Is she expected to be a virgin, for example, or to marry, or not marry, or are sexual expectations not really part of it?
Sexual politics is not an issue in that Western sense. The only thing I've noticed is when a Manbo is possessed by a Male Spirit, she has her assistants take off her jewelry so as not to seem too feminine.