The Smart Set: Lauren Cerand's weekly events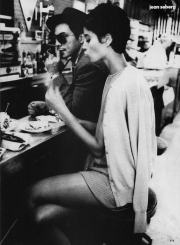 The Smart Set is a weekly feature, compiled and posted by Lauren Cerand, that usually appears Mondays at 12:30 pm, and highlights the best of the week to come. Special favor is given to New York's independent booksellers and venues, and low-cost and free events. Please send details to Ms. Cerand at lauren [at] maudnewton.com by the Thursday prior to publication. Due to the volume of submissions, events cannot be considered unless the date appears in the subject line of your message.

MON, MAR 30: Glasvegas, with Ida Maria, play Webster Hall. Uptown, the 92nd Street Y presents "Gogol at 200." 8PM, $19 ($10 Age 35 and Under).
TUE, MAR 31: "Poet and translator Rosanna Warren, author of Fables of the Self, hosts four master translators reflecting upon the alchemy of voice, style, and literary selfhood in the art of translation. Participants include Jonathan Galassi (Eugenio Montale), Edith Grossman (Mario Vargas Llosa), Marilyn Hacker (Vénus Khoury-Ghata), and Rika Lesser (Rainer Maria Rilke)." Presented by the Center for the Humanities in the Skylight Room (9100) at the Graduate Center, CUNY. 6:30PM, FREE. At Scandinavia House, "In The Tricking of Freya, [Icelandic-American author Christina] Sunley draws on her rich heritage to tell the fictional story of a woman in search of a mysterious relative and a family secret that takes her from a small village to the volcanoes, glaciers, and chasms of Iceland itself." 6:30PM, FREE.
WED, APR 1: "The Oulipo, a collective of writers and mathematicians who explore alternative ways of writing fiction and poetry using self-imposed (often mathematically-inspired) constraints, is holding an event in New York from April 1-3. Oulipo members Marcel Bénabou, Anne Garréta, Hervé Le Tellier, Ian Monk, and Jacques Roubaud will be in the city for three days of readings, lectures, writing workshops and book signings. Jacques Roubaud will also be presenting the new English translation of his book, The Loop."
THU, APR 2: Teju Cole (Every Day is for the Thief), who I met at a party the other night and is very nice, reads at that new Franklin Park series with some other people. Highly recommended. 8PM, FREE. And, architect Billie Tsien gives the 2009 Eleanore Pettersen Lecture in the Great Hall of The Cooper Union. "Current work with Tod Williams includes a new museum for the Barnes Foundation in Philadelphia, a performing and visual arts center at the University of Chicago, the Asia Society headquarters in Hong Kong, and an information technology campus in Mumbai, India. Work in New York includes Harmony Atrium, a new ticketing venue and public space for Lincoln Center, two residences, and two new skating rinks in Brooklyn's Prospect Park." 6:30PM, FREE.
FRI, APR 3: "Roddy Hart, one of Scotland's most talented young singer-songwriters, will perform live in what is a genuine world exclusive; the first ever live public performance of three Burns poems, written 250 years ago and put to song for the first time. And where better than in New York's newly refurbished St Andrew's Bar, the epicenter of all things Scottish in Manhattan. Roddy is in New York to help promote Homecoming Scotland 2009, a year-long celebration of more than 300 events and festivals across Scotland inspired by the 250th anniversary of our beloved poet Robert Burns." 8PM, FREE. A downtown Scottish bar: Shoolbred's.
WEEKEND: On Sunday, pretend to be too focused on rolling that cigarette to notice the Fairway across the street, and amble on nonplussed down to the waterfront, my little bohemians, as Gabriel Cohen's Sundays at Sunny's presents an afternoon of eclectic entertainment with Hooman Majd (The Ayatollah Begs to Differ: the Paradox of Modern Iran) and David Henry Sterry (Master of Ceremonies: a True Story of Love, Murder, Roller Skates, and Chippendales). "The series, co-sponsored by BookCourt bookstore, will continue on the first Sunday of every month (except May) at 3PM at Sunny's, a legendary old bar on the Brooklyn waterfront in Red Hook at 253 Conover Street (between Beard & Reed Streets). You can buy books and get them signed by the authors. Suggested donation: $4. The bar (cash) will be open. Free coffee and Italian pastries and cookies will be provided. Bar telephone (only available when the bar is open): 718-625-8211." And, "P.S.1 Contemporary Art Center presents Leandro Erlich: Swimming Pool, an extraordinary and visually confounding installation by the Argentine artist Leandro Erlich." Through April 13.