The Smart Set: Lauren Cerand's weekly events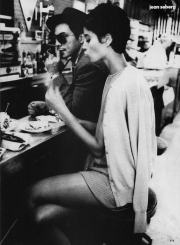 The Smart Set is a weekly feature, compiled and posted by Lauren Cerand, that usually appears Mondays at 12:30 pm, and highlights the best of the week to come. Special favor is given to New York's independent booksellers and venues, and low-cost and free events. Please send details to Ms. Cerand at lauren [at] maudnewton.com by the Thursday prior to publication. Due to the volume of submissions, events cannot be considered unless the date appears in the subject line of your message.

MON, FEB 2: Why not plan ahead for when New York real estate really exhausts you? "Please join Diana Leafe Christian for a presentation about ecovillages worldwide and a look at some of their successes with permaculture, renewable energy, sustainable agriculture, cottage industries, local currencies, and community programming." At Bluestockings, 7PM, $5 suggested. The Leon Levy Center for Biography at the Graduate Center CUNY presents "Larger Than Life: Portraying the Iconic Artist," a discussion between biographers on their subjects and challenges, with Amy Henderson (Katherine Hepburn), Patricia Bosworth (Diane Arbus, Marlon Brando) and Greg Tate (Jimi Hendrix, James Brown). At Elebash Recital Hall, The Graduate Center, CUNY, 365 Fifth Avenue (between 34th & 35th Streets). 7PM, FREE. And, Ron Hogan emcees Lady Jane's Salon, a new reading series for romance fiction to benefit Share the Love, which "donates romance novels to non-profit, non-denominational organizations devoted to helping women live independent, self-sufficient lives." At Madame X (94 West Houston Street). 7PM, "Admission is $5 or a paperback romance."
TUE, FEB 3: "The Goethe-Institut New York is pleased to announce the season premiere of its hit series, "What is Green Architecture?" which spotlights next-wave pioneers in the field in conversation with curator and host Andres Lepik and brings architects and engineers to New York in order to give audiences the exclusive privilege to travel the globe via projects of the future, from Harvard's transformative Allston Science Complex to the first carbon-neutral city, currently taking shape in the United Arab Emirates. On Tuesday evening in Avery Hall (114, lower level) at The Graduate School of Architecture, Columbia University, the young, Berlin-based, Aga Khan prize-winning architect Diébédo Francis Kéré will deliver a lecture – â"Step by Step: Building Schools in Africa," addressing his current project in his native Gando Village, Burkina Faso (already featured in The Phaidon Atlas of 21st Century World Architecture). Diébédo Francis Kéré asserts that his fondest desire as an architect is to build projects in his own village, Gando, located in the West African country of Burkina Faso, 'which is one of the ten poorest countries in the world and has an illiteracy level of over 80%.' To achieve sustainability, he notes that 'the projects are based on the principles of designing for climatic comfort with low-cost construction, making the most of local materials and the potential of the local community, and adapting technology from the industrialized world in a simple way.'" 6:30PM, FREE [Full disclosure, as always: I am the publicist for this event]. Downtown, Poems & Pints, Presented by Lower Manhattan Cultural Council and Poetry Society of America, Featuring poets Dana Goodyear and Matthew Zapruder at Fraunces Tavern, 54 Pearl Street (at Broad Street). 6:30PM, FREE.
WED, FEB 4: Amanda Stern's Happy Ending Series, now at Joe's Pub — and fancy, but not too fancy — presents Affliction Night, "Starring authors, Jayne Anne Phillips and Sarah Manguso, with musical guest Daniel Knox and members of the Broadway Cast of HAIR!" 7PM, $15 tickets. At Film Forum, The Panic in Needle Park, adapted for the screen by Joan Didion and John Gregory Dunne from James Mills' book, plays through Thursday. Meanwhile in Brooklyn, "'The "Secret Science Club' lights up the Bell House with more far-out lectures, spectral libations, and sneakily seductive sounds as neurobiologist and Author Vincent Pieribone lectures on Glow-in-the-Dark Science. Bring your bathyspheres and prepare to submerge …. Intrepid neurobiologist, author, and scuba diver Vincent Pieribone lures the Secret Science Club into the depths—where ocean research and brain science collide. Dr. Pieribone uncovers the secrets of the seas and technicolor reefs in his quest for biofluorescent creatures—and then shows how they can be used to create glowing proteins that make cells and neurons light up in the lab. A cellular and molecular biologist at Yale University's School of Medicine and the co-author of Aglow in the Dark: The Revolutionary Science of Biofluorescence, Dr. Pieribone asks: What do jellyfish and coral reefs have to do with the human brain and the quest for medical cures? What kinds of undersea animals glow? How can biofluorescent technology link the human mind with machines? What are the latest advances in fluorescent microscopy and micro-photography? And whatever happened to that transgenic, glow-in-the-blacklight rabbit in France?" 8PM, FREE.
THU, FEB 5: Barnes & Noble's "Upstairs at the Square" returns with its 2009 season premiere, starring Nikki Giovanni, whose new book is Bicycles: Love Poems (HarperCollins, January 27), and Emmanuel Jal — described by Peter Gabriel as "having the potential of a young Bob Marley" — whose new book is War Child: A Child Soldier's Story (St. Martin's Press, February 3), who will discuss and perform their work in conversation with host Katherine Lanpher. Admission is free, and no tickets are required. Seating is available on a first-come, first-serve basis. At Barnes & Noble, Union Square. 7PM, FREE [Full disclosure, as always: I am the publicist for this event]. Uptown, Young Friends of Film at the Film Society of Lincoln Center present a screening and afterparty for Wong Kar-wai's Days of Being Wild, described by Manohla Dargis in The New York Times as "A rapturous film about cool men, hot women and the thousand and one nights and cigarettes they share." 7:30PM, $25 tickets. And, Stephen Elliott's new venture, The Rumpus, introduces itself to New York with a launch party featuring "Music by Will Sheff of Okkervil River, Kristen Shaal of Flight of the Conchords, Readings from authors Andrew Sean Greer and This American Life's Starlee Kine and much more. 7PM, $20 tickets.
FRI, FEB 6: Two current shows worth checking out are "The Last Nomads: Photographs from Inner Mongolia by A Yin" at the Rubin Museum of Art in Chelsea and "Barkley L. Hendricks: Birth of the Cool" at the Studio Museum in Harlem.
SAT, FEB 7: "Two sets of music presenting The Dreamers and the World Premiere of The Dreamers Volume 2 (O'o) in one exciting concert! Named for an extinct Hawaiian bird whose delightful song will never be sung again, O'o is the exotic and charming follow up to The Dreamers, one of John Zorn's most appealing projects. Featuring the same dynamic band of masters from Zorn's inner circle, O'o presents more lyrical and adventurous instrumentals exploring World Music, Surf, Exotica, Minimalism, Film Soundtracks and more." At Abron Arts Center. 8PM, $25 tickets.
SUN, FEB 8: At The Cell Theatre in Chelsea, "'The Other Life' is a short play based on the correspondence between Elizabeth Bishop and Robert Lowell, illuminating their relationship both personal and professional. Q&A with actors Monique Fowler and John Wojda and Thomas Travisano and Saskia Hamilton, editors of the newly published collection of the Lowell/Bishop correspondence, Words in Air." 5PM, $5.