The Smart Set: Lauren Cerand's weekly events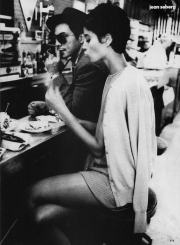 The Smart Set is a weekly feature, compiled and posted by Lauren Cerand, that usually appears Mondays at 12:30 pm, and highlights the best of the week to come. Special favor is given to New York's independent booksellers and venues, and low-cost and free events. Please send details to Ms. Cerand at lauren [at] maudnewton.com by the Thursday prior to publication. Due to the volume of submissions, events cannot be considered unless the date appears in the subject line of your message.

The Highlight Reel Edition
WED, JAN 7: If you don't have tickets yet for Amanda Stern's Happy Ending Series Premiere at Joe's Pub, you're out of luck, so while we're all clicking "refresh, refresh" for the Richard Price re-cap on her post-show blog, see if you can get tix for the next one. Meanwhile, Eric and Eliza Obenauf of Two Dollar Radio are making a rare appearance in New York from their undisclosed Midwestern location for Amy Koppelman's reading for I Smile Back at Barnes & Noble on the Upper West Side (Broadway at 82nd). I'll be there. 7PM, FREE.
THU, JAN 8: Starting this week as part of the Under The Radar Festival, and running through February at the Goethe-Institut New York, next-wave theater provocateurs Rimini Protokoll stage "Call Cutta in a Box": "You open the door and you find a phone ringing… The story emerges as you realize that the caller and you and your city are at the center of the plot." Details can be found here. [Full disclosure as always, I am the publicist for this project.]
SUN, JAN 11: At Good World, Rosie Schaap, author of the forthcoming essay collection Drinking With Men, throws a launch party for Jami Attenberg, author of the newly released (in paperback) novel, The Kept Man, joined on the bill by special guest Wendy McClure (I'm Not the New Me). 5PM, FREE.
Looking ahead: next week Alina Simone appears at the Russian Samovar with Sam Lipsyte (thanks to David from Largehearted Boy for the tip!).