Lump of coal holiday stories: Rosie Schaap's Xmas '89
Rosie Schaap's Great Big Lump of Coal party for her good words @ Good World series was great fun. After the reading, she told Dana, Max, and me a story involving the best and maybe the most inappropriate holiday toast ever. I'm not allowed to post that one.
Instead here's an Xmas excerpt from Schaap's forthcoming Drinking with Men. If you like this, listen to the author telling two stories on This American Life.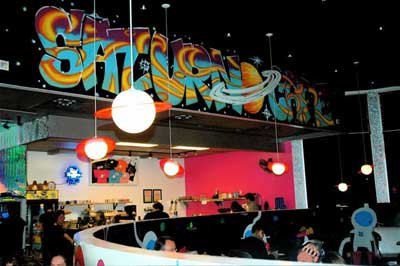 A Santa Cruz Christmas, 1989
At sunset most evenings, we went to the state beach, with its natural bridges of enormous eroded rocks, fired up a joint, and watched the winter surfers, the students, the drifters who'd long preceded our own drifting to this place, who must have arrived here much as we did, only years before, with no better plan, traveling the same tine in the same forked road, Santa Cruz or San Francisco, Santa Cruz or Humboldt, Santa Cruz or _____, Santa Cruz or_____, Santa Cruz or _____. Santa Cruz instead of anywhere else, especially: instead of wherever they'd come from. Danny and Billy and I lived in the rusty brown Dodge van, parked on Mission Street, in front of the pizzeria where they worked, at least through Christmas, at which point Danny had managed to scrounge together enough money to return home to Jersey for the holidays.
Billy was a Christian, but not a religious one. Still, Christmas was Christmas. And I was one of those half-assed New York Jews who grew up celebrating Easter and Passover — whose family, truth be told, preferred Christmas to Chanukah, because ma really loved chestnuts roasting on an open fire, and overstuffed stockings, and a nice Bûche de Noël and all that, without particularly paying Jesus any mind, though she was firmly of the opinion that he seemed like a totally o.k. guy. So even for me, yes, Christmas was Christmas, and sleeping in a van would not do, nor would eating Domino's discards.
"We should at least get a room somewhere," I suggested. Billy quickly agreed, even though we were both close to broke. We checked into the cheapest motel we could find. At a convenience store across the road, for a small fee, we got a loitering grownup to procure a couple six-packs of Anchor Steam for us — the birth of the baby Jesus rated at least a classy regional beer.

"Should we get some Jack too?" Billy asked, half-serious. Only a week before, at a motel lounge outside L.A., I'd drunk at least twenty shots of the stuff in one go. I woke up a day later in the van, in Santa Cruz, 350 miles north of where I'd blacked out. Now even the smell of it — sickly-sweet, vanilla and burnt cotton — made me want to retch.
"Nah." No way.
Billy and I settled into our motel room with our beer and our Cool Ranch Doritos and those cheese-crackers-with-peanut-butter that cost like a dollar for six packets — on account of Billy and me welcoming the occasional junk food splash-out with great enthusiasm, and, above all, on account of Christmas, we could dispense with our usual hippie-health-food-store-totally-organic pieties — and flipped on the TV, each of us claiming our own queen-size bed. Billy and I were friends, but not especially close friends, and, without Danny, we had little to say to each other. We idly watched the local news, then some cartoons, then some videos on MTV. When the clicker landed on the Yule Log, we gave each other a look of faint despair. This was our Christmas, our sad weird Christmas, and a motel room was nearly as shitty a place to be as the van. Doritos and beer were good, sure, but shouldn't we go out for dinner?
"Shouldn't we go out for dinner?" I asked. No argument from Billy.
We hit the strip — the pedestrian mall in downtown Santa Cruz — and checked the menus posted outside the restaurants. Every place was way too expensive, or full, or both, or closed. We trudged up Mission Street, past Domino's. The Saturn Café, known at the time for its activist feminist clientele and vegan-friendly menu, was open. Of course it was open, but it did not do Christmas. No twinkling lights. No tinsel. No Santas or reindeer or candy canes. But there were free tables, and it was better than our stash back at the motel. We ordered salads and lentil soup, and the conversation stayed sparse. I kept my thoughts to myself: I wished I were home, not for good, just at that moment. I missed my family, imperfect as we were. I envied Danny, who at this moment was probably gleefully reneging on his vegetarianism and eating ham or turkey in the company of his relations, young and old, who was probably luxuriating in the flickering light of a Christmas tree, who was in the Northeast, where there was likely snow on the ground and maybe even children sledding, where Christmas was Christmas-y, not like this warm West Coast horseshit. I envied Danny, who was having a real Christmas, so different from Billy's and mine, surrounded as we were by recalcitrant atheists picking at tempeh and brown rice. What was I doing here? Why had I chosen this? And I imagined that Billy, my reticent, accidental Christmas companion, was thinking much the same.
We walked quickly back to the motel in the cooling California night, past palm trees and strip malls, past so many parked cars and so few people. I glanced into strangers' houses, through casement windows framing repeated tableaux of families being families at Christmastime, families drinking Egg Nog and, I figured, listening to Bing Crosby crooning "The Christmas Song" and Ella Fitzgerald elevating "Jingle Bells," wishing one and all — except for me, except for Billy — a swinging Christmas, as they tallied their holiday hauls. We returned to the motel, to our matching queen size beds, to our already diminished six packs. We drank silently, a few feet apart, isolated by our unhappiness. I do not remember if Billy called home but I know I did not. I had elected this estrangement and would ride it out. We resumed our channel-flipping. Fuck the news and its cheerful reports of Christmas near-miracles and charitable acts. Fuck the Yule Log and all its stupid Yule Logness.
"Hey Billy, pass me another Anchor Steam."
"You got it."
And there we were. Two depressed kids far from home, far from parents and brothers and sisters, no cards, no calls, no high school diplomas, no home save a crappy brown van, pounding back bottles of beer, lying on dingy, quilted, motel bedspreads, tired but restless.
Flick. On the next channel: The Sound of Music. Beautiful pixie-haired Julie Andrews, Sister Maria — not yet betrothed to the Captain, not yet a Von Trapp — comforting her little Austrian charges with a litany of her favorite things. Doorbells and sleigh bells and schnitzel with noodles! I thought of ma back in New York, and her inexhaustible cheerleading for The Great American Musical, her love of all things Rogers and Hammerstein, all things Lerner and Loewe, all things Irving Berlin and George Gershwin and Lorenz Hart. I thought of Sunday evenings when I was even younger, in my grandfather's little library, listening to The Original Cast Recording of every cast that had ever originally been recorded. I could see something stirring in Billy, too, something possibly warm and good, though I was sure in his case it had nothing to do with show tunes, and I watched as the fear and fretfulness slowly, slowly, started to wash away from his young, unshaven face. And I noticed, for the first time, really, what a fine face he had: both strong and soft, high cheekbones and Elvis-y lips, pretty blue eyes. Was he thinking of his favorite things? Well, God only knew what those were in Billy's case — but soon, very soon, damn it if we didn't feel so bad, if we felt, actually, pretty okay. And damn if by the time "Edelweiss" rolled around, small and white and blooming and growing forever, I wasn't singing along with the brave, elegant (and, let us be honest, pretty fucking hot) Captain von Trapp while he strummed his guitar. And a feeling of freedom returned, a sense that even if I didn't know what I was doing, what I was doing was fine, then and there, for all its uncertainty. We both cried, and it was good.
"Hey Billy?"
"Yeah?"
"Pass me another beer."
"You got it."
"Thanks. Hey Billy?"
"Yeah?"
"Merry Christmas, man."
"Yeah." He turned his eyes away from the television, looked at me, and nodded. "Merry Christmas."

Recent image of Santa Cruz's Saturn Café taken from this site.