The Smart Set: Lauren Cerand's weekly events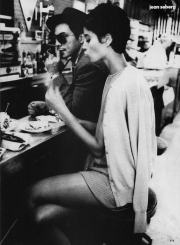 The Smart Set is a weekly feature, compiled and posted by Lauren Cerand, that usually appears Mondays at 12:30 pm, and highlights the best of the week to come. Special favor is given to New York's independent booksellers and venues, and low-cost and free events. Please send details to Ms. Cerand at lauren [at] maudnewton.com by the Thursday prior to publication. Due to the volume of submissions, events cannot be considered unless the date appears in the subject line of your message.

MON, NOV 17: When I was 22 and high on life and How the Other Half Lives (I once drove 2 hours each way for a screening of Salt of the Earth), I was working in the labor movement (and uh, don't anymore), so I'm sure I'd appreciate the tenor when Michael Soussan reads from Backstabbing for Beginners: My Crash Course in International Diplomacy ("Soussan was ecstatic when he was hired for his dream job in 1997, as a Program Coordinator for the United Nations' newly created Oil-for-Food program…") at The Half King. 7PM, FREE.
TUE, NOV 18: At The Gershwin Hotel, "Ben Greenman and John Reed select unrelated, self-serving excerpts from recently published works (Ben's Correspondences, from Hotel Saint George, and John's All The World's A Grave, from Penguin Plume) … With special guest appearances from the emerging and outrageously talented Yael Korman, Kseniya Melnik and Lauren Wilkinson" [Full disclosure as always: Ben is one of my publicity clients]. 8PM, FREE. At 192 Books, Ben Ratliff discusses The Jazz Ear, wherein he "sits down with jazz greats to discuss recordings by the musicians who most influenced them." 7PM, FREE.
WED, NOV 19: "Dossier Journal Poetry Reading & cocktails with Tom Sleigh & Matthew Dickman," whose poem "Slow Dance" I am freakin' crazy about! At Nublu. 7:30PM, FREE.
THU, NOV 20: Anne Landsman reads from the newly issued paperback of critical darling The Rowing Lesson at Barnes & Noble in Tribeca [Full disclosure, as always: Anne is one of my publicity clients, and I put together this event and you should come because it's jointly presented with the alumni of the University of Cape Town and there's an afterparty at a nearby bar, a downtown classic, and I don't think you would want to miss that]. 7PM, FREE. And, the Goethe-Institut New York offers an on-site sneak preview of its new downtown location (!), Goethe-Institut Wyoming Building, featuring a reception and a discussion between the Berlin-based architects enlisted with transforming the raw space, the Storefront for Art and Architecture's Joseph Grima, and you [Full disclosure, as always: The Goethe-Institut New York is one of my publicity clients]. 7PM, FREE.
FRI, NOV 21: As part of the 2008 Next Wave Festival at BAM,"Resistance, memory, and love — three potent words — drive Les écailles de la mémoire (The scales of memory), a penetrating movement treatise exploring the convergence of African and US history. A collaboration between two extraordinary troupes — Senegal's all-male Compagnie Jant-Bi, and the all-female, Brooklyn-based Urban Bush Women — Les écailles presents a lyrical meditation on the heritage and truths that bind us all. Drawing inspiration from creative research that began in the US Southern states rich with stories of struggle and survival, and equally resonant African sites, the dancers offer vivid testament to a collective past lived in the present tense." Highly recommended. 7:30PM, $20-40.
SAT, NOV 22: The Enclave presents "The Festival of Movie Star Tears," with poet Lynne Potts and fiction writer Jared Hohl, at Kenny's Castaways. 4PM, FREE.
SUN, NOV 23: A page from The Smart Set Playbook: Saturdays may be for dim sum and flaneurs, but Sundays are for staying in bed with A Sport and a Pastime.