The Smart Set: Lauren Cerand's weekly events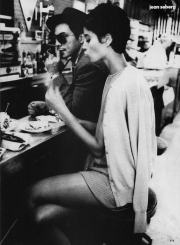 The Smart Set is a weekly feature, compiled and posted by Lauren Cerand, that usually appears Mondays at 12:30 pm, and highlights the best of the week to come. Special favor is given to New York's independent booksellers and venues, and low-cost and free events. Please send details to Ms. Cerand at lauren [at] maudnewton.com by the Thursday prior to publication. Due to the volume of submissions, events cannot be considered unless the date appears in the subject line of your message.

MON OCT 6: Please join us for "Green is the New Black," a talk on next-wave trends in architecture with s_Lab's Steffen Lehmann and MoMA's Andres Lepik. Part of the Goethe-Institut NY's "What is Green Architecture?" series [which, full disclosure as always, is one of my publicity projects], this event will take place at the gorgeous new Galapagos Art Space in DUMBO — NYC's first LEED certified "green" cultural venue! 7PM, FREE.
TUE OCT 7: "Lower Manhattan Cultural Council and Poetry Society of America present Poems & Pints, six evenings with premier American poets at the historic Fraunces Tavern in downtown New York City. Each evening, two poets read their own works and favorite poems by other writers. The selection of highly distinguished participating poets include current and past Poet Laureates as well as recipients of Pulitzer, Juniper, and Pushcart prizes and coveted awards such as the T.S. Eliot and Edgar Allen Poe Awards and Lamont Poetry Selection by The Academy of American Poets. The poetry readings will take place in the venerable surroundings of the Nichols Room at Fraunces Tavern, a well-known meeting place since 1762 as well as the site of Washington's farewell address and the first State and War Departments. Admission to all readings is free." The series kicks off with Anna Rabinowitz and Rosanna Warren. 6:30PM, FREE.
WED OCT 8: "Join Mosaic Literary Magazine as we celebrate ten years of presenting the literary arts by writers of African descent. This series of readings will display the diversity of content Mosaic has showcased since 1998." On Wednesday evening, novelist Tayari Jones discusses her approach to fiction in conversation with poet Nicole Sealey [Full disclosure: Jones is one of my publicity clients]. At MoCADA – The Museum of Contemporary African Diasporan Arts… "Brooklyn's first museum devoted to utilizing the visual arts as a medium to address, discuss, debate and resolve contemporary social, political and economic issues affecting people of the African Diaspora." 6:30, FREE.
THU OCT 9: "Cassandra Wilson, the iconic vocalist, discusses her prolific career as a bandleader, songwriter, and producer with Gary Giddins. Over the course of nineteen solo outings, including the Grammy Award-winning New Moon Daughter, Wilson has pushed the boundaries of jazz song and captivated audiences with her original improvisations and a repertory ranging from avant-garde jazz to funk. Gary Giddins is the author of nine books, including Natural Selection: Gary Giddins on Comedy, Film, Music and Books; Bing Crosby: A Pocketful of Dreams-The Early Years; and Visions of Jazz: The First Century, for which he won the National Book Critics Circle Award for Criticism." At the Elebash Recital Hall, The Graduate Center, CUNY, 365 Fifth Ave (btwn 34th & 35th). 6:30PM, FREE.
FRI OCT 10: "Between the world wars, no two cities engaged in a more fertile conversation than Paris, capital of 19th-century refinement, and New York, the upstart challenger that represented 20th-century dynamism." Explore the factors that led to your crush on the Chrysler Building at Paris/New York: Design Fashion Culture 1925-1940at the Museum of the City of New York.
WEEKEND: Don't miss the "I Kiffe NY" festival of French urban culture of-the-mo', at venues all around the city.