On irrational prejudices and Morris' The Dart League King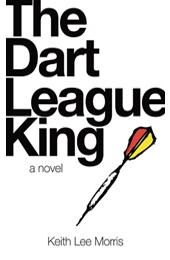 If I had a dime for every poorly-conceived novel written in close third person, with alternating chapters from alternating perspectives, that arrived in the mail, I'd be well on my way to free train fare to my sister's place.
For this proliferation I blame Jonathan Franzen, but not in a bad way. Say what you will about The Corrections — my reaction was mixed — Franzen made it look easy. It's not his fault that so many of his imitators produce emotionally empty, utterly plotless stories that drift from one unsympathetic character to another and culminate in wishy-washy epiphanies.

On my visit to the A Public Space office with a friend a couple months ago, Brigid Hughes offered me her extra copy of Keith Lee Morris' The Dart League King. Later, on the train, I deduced from the cover blurbs and copy* that the book is a close-third, alternating-perspectives work of fiction, and was immediately prejudiced against it. Still, there was nothing else to read on the ride home, so I started in — and soon was as engrossed as Brigid predicted I would be.
Somehow even this wasn't enough to overcome my bias immediately. Back at home, I put Morris' novel aside in favor of seventeen other books I was reading or planning to read. And even though I've thought about the characters — especially the one haunted by the time he took a pretty girl for a swim in a freezing lake, with tragic results — many times, only this morning, on the way out the door, did I pick up the novel again. It had floated to the top of one of the stacks in my books-from-publishers closet.
I wish I could point you to an excerpt, but Tin House doesn't seem to have made the one it published in the magazine available online. [Addendum: Oops, here it is.] So, without permission, here's a little section that's good on its own but doesn't really capture the momentum the story gathers as the characters' perceptions and stories unfold and get tangled together.
On the evening before his college graduation, Tristan Mackey walked into the campus library, probably with the notion of trying to steal or deface a book or two — he couldn't seem to remember exactly now, but probably to do something of the sort, something to make him feel more like himself and less like the other self, the one that seemed like a version of Tristan borrowed by other people in order to suit their own purposes. At any rate, he was bent on making some sort of trouble, probably because he was a little drunk already, and the library, because it was quiet and secret, offered the sort of trouble he seemed to be looking for, which was quiet and secret trouble, the kind of trouble that would be known only to himself, that would nave no consequences outside of his own head, that wouldn't keep him from graduating.

The trouble he found there was Liza Hatter, a girl from his political science class. He found her in the second-floor reading area, wearing shorts and a sleeveless top that showed her long limbs to advantage, thumbing through the latest issue of Lucky magazine, bored, killing time, her flip-flop sandals clicking softly on the floor. Liza Hatter had a thing for him, Tristan happened to know, in the same way he almost always knew, was almost never wrong, almost never made a false move or assumption when it came to love, or sex, or however you wanted to refer to it, as if Tristan cared one way or another, the object generally being the same….
Liza Hatter had in mind for the evening something she called "nesting," which involved a trip to the grocery store to get more beer and margarita mix, and a trip to the video store to pick up movies. By the time she'd reached the part about "cuddling on the couch" Tristan had begun to grow bored, and he hated boredom more than anything else, probably because it was the state at which he arrived more often than not when he was with other people, because when it came right down to it he didn't find people all that interesting, as they all seemed more or less to have the same kind of thoughts, perform the same sort of actions, very little variation occurring between the experience he had with one person or group of people and the next, and this was disturbing to him, because he was a conscientious person in the large ways and the deep ways if not in the small and everyday, and so wanted to think of himself as someone who tried to be helpful, someone who cared, even while he realized that he wasn't very helpful and usually didn't care, at least not until long after the fact, so that he passed up new opportunities for helping or caring due to his preoccupation with the missed opportunities of yesterday or the month before or last year. Right then, in fact, he was thinking about a girl named Kelly Ashton whom he had slept with last weekend at his parents' lake house and never called afterward, which was more than a little puzzling to Tristan, since he had been in love with Kelly Ashton as far back as junior high. He mulled this one over, this surprising lack of feeling for Kelly Ashton, while Liza Hatter ticked off in an excited voice the potential choices of new releases on DVD, and in thinking of last weekend Tristan's mind got settled on the lake house for some reason, and a potential avenue for escaping his increasing boredom started to take shape, an avenue that seemed to offer the possibility of at least being able to tolerate the several-hour prelude to sex with Liza Hatter, and so he laid out to Liza this plan — grab a twelve-pack and make the three-hour trip to the lake house, spend the night there, come back the next morning for his graduation….
Can't wait for the end of the workday, so I can read the rest. For this feeling of anticipation I'm grateful to Keith Lee Morris, who has singlehandedly managed to knock down one of my least rational contemporary fiction prejudices.

* Here's the ARC back-jacket description:
Russell Harmon is the self-proclaimed king of his small-town Idaho dart league, but all is not well in his kingdom. Taking place in a single day, The Dart League King follows five characters at pivotal moments in their lives. In the midst of the lague championship match, the intertwining stories of those gathered at the 321 club reveal Russell's dangerous debt to a local drug dealer, his teammate's involvement in the disappearance of a collect student, and a lovel triangle with a former classmate. The characters in Keith Lee Morris's second novel struggle to find the balance between accepting and controlling their destinies, but their fates are inextricably linked.