Second place in Narrative's love story contest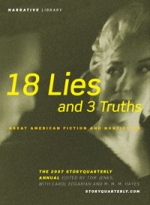 Remember that essay I was writing last year about my ex-? I keep forgetting to say that it will be anthologized next year in a collection of doomed-relationship essays edited by my friend Michael Taeckens.
Last I checked, the contributors included Kate Christensen, Junot Díaz, Gary Shteyngart, Saïd Sayrafiezadeh, Dana Rasso, Tayari Jones, Amanda Stern, Pasha Malla, Wendy McClure, T. Cooper, Jami Attenberg, Katherine Lanpher, Emily Flake, Lynda Barry, Brock Clarke, Jennifer Finley Boylan, and possibly Michael himself (if I have anything to say about it).

I mention the piece now because my friends Marie Mockett and Alexi Zentner have been pushing me to send my work to literary magazines — Marie said I needed to start thinking of myself as a writer, and to learn to stomach rejection, and this would help — and, after years of largely avoiding that process, I have been.
So I entered Narrative/ StoryQuarterly's Love Story Contest, with the essay that's going to be anthologized. I submitted and paid my $20 on the last possible day, after Lauren happened to mention that my doomed-love story fit the theme. And yesterday the editors wrote to tell me I won second prize(!). Also, $1,500(!). Astonishing. I've admired StoryQuarterly since I first read it back in college. (The most recent issue is here.)
Elizabeth Stuckey-French took first place for "Interview with a Moron," and Janet Burroway took third, with "Blackout." Runners-up are Heather Brittain Bergstrom, Mermer Blakeslee, William Borden, Beth O'Gara Connor, Masha Hamilton, Christian Lewis, Ron Tanner, Sarah Towers, Lesley C. Weston, and Yuvi Zalkow. (My piece is called "Conversations You Have at Twenty.")

If you've got some good stories sitting in a drawer, pull them out, dust them off, and ship them off to journals you like. Form rejections are no fun, and insulting ones are worse, but you can't win if you don't send.
Some of my (and my friends') other favorite venues are at the bottom left of my links page. Poets & Writers and New Pages have more comprehensive lists.