The Teahouse Fire (and tea ceremony) giveaway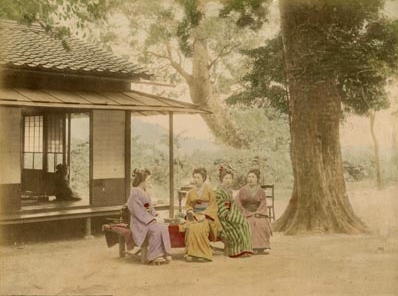 Regular readers will remember Marie Mockett's Letter from a Japanese Crematorium and amazing bamboo shot recipe. And now those of you in New York can see her interviewing Ellis Avery this Friday, the 7th, at Asia Society, following a reading from Avery's first novel, The Teahouse Fire.
In 2006, Mockett said this about the book:
Western writers, not to mention filmmakers, wrestle with two well-worn tropes when portraying Japan. There is the nightmarishly modern landscape with a youth culture that fetishizes things a bit too much, and whose inhabitants, if alienating and silly, at least benefit from a system of enviable efficiency. Other authors are so gob-smacked by Japan's exotic beauty they hope Buddha himself will notice their "enlightened" sensitivity. In these stories we meet founts of inscrutable wisdom, repressed emissaries of human dignity, instructors of the perfect karate chop: nothing at all, in other words, recognizably human.

What a pleasure it was, then, for me to read a copy of Ellis Avery's new novel, The Teahouse Fire set in 19th century Kyoto and published this month by Riverhead. Avery neatly resolves the dilemma of the "Western writer writing about beautiful Japan" through her choice of narrator. Plucky Aurelia, aged nine, accompanies creepy uncle Charles, the missionary, from New York to Japan in 1865. Vowing to do something about the icky adults in her life, Aurelia wisely prays at a Shinto shrine for help. The gods listen, but the new life they grant her isn't necessarily good or bad. This is a Shinto divine intervention, after all, not a Christian one.
At the Asia Society event, she reports, "one lucky member of the audience will experience a personal tea ceremony performed in kimono by Cha An's own Noriko Sakagami." I just wish the winner could drink the tea with one of Isao's cherry blossom cupcakes…

Courtesy of Asia Society, I'm giving away two tickets. If you're interested in attending, and you haven't already won something here, email me at maud [at] maudnewton [dot] com before noon (EST) tomorrow, March 5, with "Teahouse" in the subject line.
All entries will be assigned numbers based on the order received, and the randomizer will choose a winner.