Monday afternoon Paula McLain giveaway
The move and associated travails have kept me from the computer for over a week. What with all the unanswered email and looming deadlines, you'll want to brace for a few more giveaways.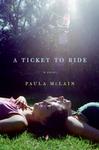 Abandoned as children, the young Paula McLain and her sisters drifted from foster home to foster home for a decade and a half.
McLain wrote a memoir, Like Family: Growing Up in Other People's Houses, about the neglect and abuse they withstood, but I haven't read that book yet. I'm more interested in the way her new novel, A Ticket To Ride, mines McLain's experience of the vulnerabilities parental desertion unleashes in the teenage girl and refracts it through fiction.

When the grandmother who's raised her gets sick, Jamie is thrust into the care of her well-meaning but distant uncle. He invites her beautiful, dangerous, and utterly amoral cousin, Fawn, to live with them for the summer. On her arrival, Fawn teaches Jamie how to dress and style her hair and flirt with boys. But as the months tick by, the makeover extends beyond appearances, threatening the very core of our protagonist.
Like Maureen Gibbon's Swimming Sweet Arrow and Dorothy Allison's Bastard Out of Carolina (one of my favorite books), the novel is an original coming-of-age story that finds its inspirations in life but sidesteps the cheap triumphalism that plagues so many contemporary memoirs.
If you're interested in reading A Ticket to Ride, and you haven't already won one of my giveaways, email me at maud [at] maudnewton [dot] com today (3/03) before 11:59 p.m. EST with "McLain" in the subject line. All entries will be assigned numbers based on the order received, and the randomizer will choose a winner. The winner is Oxford American's Matt Baker.