The Smart Set: Lauren Cerand's weekly events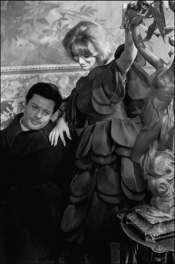 The Smart Set is a weekly feature, compiled and posted by Lauren Cerand, that usually appears Mondays at 12:30 pm and highlights the best of the week to come. Special favor is given to New York's independent booksellers and venues, and low-cost and free events. Please send details to Ms. Cerand at lauren [at] maudnewton.com by the Thursday prior to publication. Due to the volume of submissions, events cannot be considered unless the date appears in the subject line of your message.
MON, MAR 17: "When asked why she wants to learn Japanese, a character in Kristen Kosmas's play Hello Failure replies, 'I want to chop away at the wilderness of my mind,'" notes Opinionist. Described by P.S. 122 as a "sprawling associative neo-realistic comedy of beauty involving seven submariners' wives, one counterfeit civil war ghost, one lusty renegade hairdresser and a poignant potted plant all making it through the day…barely," it continues apace through Friday. 8PM, $18.
TUE, MAR 18: Jami Attenberg and Anne Landsman read from their respective striking tales of literary love and checked-out heroes for what we've unofficially dubbed (in exquisitely poor taste, of course) "Girlfriend in a Coma Night" at Housing Works. 7PM, FREE [Full disclosure, as always: I publicized The Rowing Lesson when it recently came out].
WED, MAR 19: Novelist Tayari Jones appears as part of the "Women Writers of the Diaspora" series at the New School. 6:30PM, FREE. And, the PAGE series presents Dawn Raffel, Wayne Koestenbaum and Jim Shepard at the National Arts Club. 7PM, FREE. Plus, Sip Lit, "a monthly series of readings in a cafe," presents Richard Howard, known for translating all my favorite Baudelaire poems. At Sip, 998 Amsterdam Avenue between 109th and 110th Streets. Highly recommended. 8PM, FREE.
THU, MAR 20: A new series, "With God on Our Side," debuts at the Goethe-Institut New York, with an event entitled "A Tale of Two Cities," and "European politician Daniel Cohn-Bendit and New York-based author David M. Reimers in conversation with regards to key contemporary processes and future developments surrounding the place of migrants and ethnic minorities in the modern metropolis" [Full dislosure, as always: "With God on Our Side" is one of my PR projects this spring]. Meanwhile, in Park Slope, Alison Smith, author of Name All the Animals, will appear at Janine Avril's Girlsalon at The Perch Cafe. 7:30PM, FREE. And, for independent thinkers who like to dress the part, downtown favorite Project No 8 is having a sample sale, with 50-90% off of "A Détacher, Anuschka Hoevener, Bless, Boudicca, Devandervar, Eliza Gran, Hope, Loeffler Randall, Kostas Murkudis, Kwik Shop, Maison Martin Margiela, Marimekko, Salvor, Schiesser, Stephan Schneider, Sunshine & Shadow, Tucker, Various Projects, and much more…" Call (212) 219-1693 for details on location and hours this week.
FRI, MAR 21: Please join us at Bluestockings for an evening with Janice Erlbaum, whose new book is Have You Found Her, a profound examination of mentorship and friendship; love and deception; and the bonds between women. 7PM, FREE [Full disclosure, as always: Janice is one of my PR clients, and I put this event together]. Later on Friday evening, musical raconteurs Capgun Coup, a band I flipped over in Omaha, play a night in New York. Highly recommended.
SAT, MAR 22: Says "non-fiction novel[ist]" Tim Hall, "The Blacksmiths for Literary Progress will be accompanying our friend and fellow Blacksmith, Ken Wohlrob, to celebrate the release of his new collection, The Love Book" at Freebird Books. 7PM, FREE. Also, there's a spring sale on all weekend at the new Alice Roi shop on Canal Street, with "complimentary champagne and cookies."
SUN, MAR 23: Sunday Night Fiction turns the joint over to graphic novelists for an evening at KGB. Brilliant!