Wednesday afternoon Mary Swan giveaway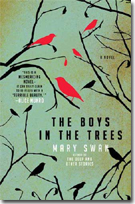 I admit it: I started into Mary Swan's The Boys in the Trees more out of curiosity than interest. The story of a brutal crime that shocks a 19th-century community and destroys a family, etc., etc. — the description didn't grab me.
But it seemed so unusual that a novel would bear enthusiastic blurbs from both the sharp-witted, gimlet-eyed Hilary Mantel, and the despairing, pathologically empathetic Alice Munro, that I had to read at least the first page. After I did that, I didn't stop.

The Boys in the Trees is one of those rare contemporary novels that is slender and sharp and unfolds through multiple perspectives but isn't detached, coy, or icily knowing. As Dory Cerny writes in Quill & Quire:
Each chapter is told from a different character's perspective, but rather than being disjointed, the novel feels complete…. Swan uses the effect of the crime on each narrator as a connecting thread, weaving an intricate web that provides glimpses into each character's story, without sacrificing the importance of the central figures, William Heath and his family.
"Finishing [the book]," Hilary Mantel says, "I feel as if I am still listening for it. It has the compelling logic of a lingering, powerful dream." I had the same experience — and don't tell Stephany, but I want to send her a copy for her birthday, to see if she gets caught up in the strange nightmare intensity of the story, too.

If you'd like a copy of The Boys in the Trees, and you haven't already won one of my giveaways, email me at maud [at] maudnewton [dot] com today (2/20) before 11:59 p.m. EST with "Swan" in the subject line. All entries will be assigned numbers based on the order received, and a randomizer will choose the winner. J. Brown wins the book. Many thanks to all who wrote in; one of these days, I hope to respond properly.