The Smart Set: Lauren Cerand's weekly events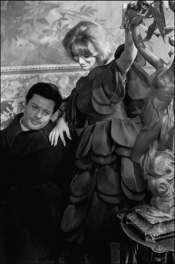 The Smart Set is a weekly feature, compiled and posted by Lauren Cerand, that usually appears Mondays at 12:30 pm and highlights the best of the week to come. Special favor is given to New York's independent booksellers and venues, and low-cost and free events. Please send details to Ms. Cerand at lauren [at] maudnewton.com by the Thursday prior to publication. Due to the volume of submissions, events cannot be considered unless the date appears in the subject line of your message.
Fresh-faced and just back from a weekend in the country, I must bid you leave once again– to find a dress for a Leap Day party with an invitation so hot, thought I heard a sizzle when it touched my hand (sadly, am not allowed to bring "The Smart Set" as my +1; I asked). Herewith, the Double Trouble Edition:
WED, 2.20: Sip Lit, "a monthly series of readings in a cafe," presents Edward Mendelson reading W.H. Auden's prose and Mark Svenvold. At Sip, 998 Amsterdam Avenue between 109th and 110th Streets. Highly recommended. 8PM, FREE. Also on the Upper West Side, Bookculture has some spectacularly intriguing events lined up in coming weeks.
THU, 2.21: "Winkleman Gallery is very pleased to present a solo exhibition of new paintings by New York artist Joy Garnett. In four large canvases Garnett continues her groundbreaking exploration of the malleability of instantly globalized images and how they have begun to replace written language as the markers of mankind's collective memory or consciousness. Unlike her last three New York exhibitions, which centered on specific themes of conflict or violence, this grouping is united only by the loose suggestion of images possibly taken at precisely the same moment in very different locations around the world. Garnett circles the planet to underscore perhaps the unstoppable imperative of this new lingua franca." Highly recommended. Opening: 6 – 8PM, FREE. In Brooklyn, "Translator Anne McLean reads from and discusses her recent translation of Julio Cortázar's Autonauts of the Cosmoroute. Julio Cortázar (1914–1984) was a true giant of twentieth-century Latin American literature. Autonauts of the Cosmoroute is a love story, an irreverent travelogue of elaborate tales and snapshots detailing Cortázar and wife Carol Dunlop's thirty-three-day voyage on the Paris-Marseilles freeway." With Yuriy Tarnawsky, "a bilingual American/Ukrainian writer, born in Ukraine but raised in the West," as part of OFF THE RAIL, curated by Donald Breckenridge and happening at the Brooklyn Central Library (10 Grand Army Plaza). 7PM, FREE.
FRI, 2.22: "Paragraph is thrilled to host a reading in honor of Wales Week with three internationally recognized Welsh Poets and Novelists: Paul Henry, Owen Sheers and Richard Gwyn at Clay, followed by a wine and cheese reception at Paragraph. Free and open to the public." Highly recommended. 8:30PM, FREE.
SAT, 2.23 & SUN, 2.24: At the Morgan Library, "Close Encounters: Irving Penn, Portraits of Artists and Writers."
MON, 2.25: Rachel Cline reads from her new novel, My Liar, at Rocky Sullivan's in Red Hook. "What's it about? The mutually exploitative friendship between two women who work together in the movie business." 8PM, FREE. At the Museum of Sex, Stephen Elliott (interviewed previously in The Smart Set), Anthony Swofford and Nick Flynn read from Sex for America. 7PM. Also, "The New York City Chapter of the National Multiple Sclerosis Society has announced the finalists for its 12th annual Books for a Better Life Awards, honoring the best self-improvement books of 2007. The winners will be announced on Monday, February 25, 2008 during an awards ceremony in Manhattan, hosted by NBC Today Show Co-anchor Meredith Vieira, who is also an active member of the Chapter's Board of Trustees… Proceeds will support national research, as well as vital services and medical programs for those with MS in the metropolitan area." Details.
TUE, 2.26: At the Center for the Humanities, "Poet C. D. Wright and photographer Deborah Luster discuss their work on One Big Self: Prisoners of Louisiana with Alice Quinn. C. D. Wright is author of numerous poetry collections, including Cooling Time: An American Poetry Vigil, Steal Away: New and Selected Poems, and String Light, which won the Poetry Center Book Award. Deborah Luster's photography has been the subject of numerous solo exhibitions throughout the country. Alice Quinn is Executive Director of the Poetry Society of America." 7PM, FREE.
WED, 2.27: Jami Attenberg, whose new novel is The Kept Man, and Janice Erlbaum, whose new memoir is Have You Found Her, read from both books, both set in New York right now, at Bookcourt [Full disclosure as always: I am Janice's publicist]. 7PM, FREE.
THU, 2.28: The Film Society of Lincoln Center presents a screening of Walker. "Of all Cox films maudits, this quixotic broadside at the Reagan administration efforts to overthrow Nicaragua's Sandinista government has to be the most maudit of all. Written by Rudy Wurlitzer, it boldly (and surreally) reconstructs the true story of the 1855 invasion of Nicaragua by deranged American imperialist William Walker, played with manic intensity by Ed Harris. An unruly Peckinpah-meets-Buñuel fantasia, ripe for rediscovery. Universal, who incredibly enough bankrolled the film, buried it after a token theatrical release. Still, per Cox, Walker was the second-biggest box-office hit ever in Nicaragua, after The Sound of Music. The film's music is by Joe Strummer, and if you watch out you can see him in many scenes as one of Walker's ragtag soldiers." [Full disclosure, as always: I am the publicist for Wurlitzer's novel, The Drop Edge of Yonder, out next month]. 6:30PM, $11.
FRI, 2.29: Friend of The Smart Set, Gabriel Cohen, says: I'd like to invite you to two book parties for my new book Storms Can't Hurt the Sky: a Buddhist Path Through Divorce, now available from Da Capo Lifelong Books. The book offers some radical advice about how to get through life's tough stuff (not just divorce); how to improve relationships; and how to be more happy. The official launch party will take place on Friday, February 29 at the Rubin Museum of Art in Chelsea. One of my favorite museums in the world, the Rubin contains a spectacular, intimate collection of Himalayan art, as well as a great café, bookstore, and gift shop. My reading and talk will be part of a lively evening featuring DJs and a full bar, a guest visual artist, and a David Cronenberg film. The talk and gallery admission after 7 p.m. are free."
SAT, 3.1: publish and be damned, an exhibition of an international archive of artist fanzines, continues at Ludlow 38, a new art space on Ludlow Street (between Grand + Hester) [Full disclosure, as always: I am the publicist for this project].
SUN, 3.2: Disco nap. Highly recommended.