The Smart Set: Lauren Cerand's weekly events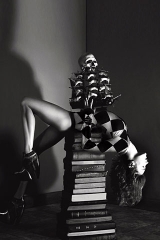 The Smart Set is a weekly feature, compiled and posted by Lauren Cerand, that usually appears Mondays at 12:30pm and highlights the best of the week to come. Special favor is given to New York's independent booksellers and venues, and low-cost and free events. Please send details to Ms. Cerand at lauren [at] maudnewton.com by the Thursday prior to publication. Due to the volume of submissions, events cannot be considered unless the date appears in the subject line of your message.
MON Jan 21: Brooklyn Independent presents an evening of short films from the next edition of Wholphin, McSweeney's DVD magazine. Too bad it doesn't include the one about Selma Blair's vagina that I so enjoyed. 7PM, FREE. Downtown on Maiden Lane, the charming cafe known as KLATCH displays Andy Jurinko's totally genius "Twelve Portraits of Adriana Lima" (which reminds me of an experimental epic poem about an archetypal heroine named Petra Nemcova that I publicized a while back). Through February 8.
TUE Jan 22: Free Food for Millionaires author Min Jin Lee makes an appearance at Shin Choi in SoHo, in an evening presented by the Korean American Community Foundation and the Asian Women's Giving Circle. 6:30PM; Seating is limited, so RSVP (required) to John Rhee john.rhee@kacfny.org or 201-670-1198 [Full disclosure, as always: Lee is one of my publicity clients]. And, Ron Hogan introduces novelist Adam Langer, who reads from his new novel, Ellington Boulevard, at the Strand, with a reception to follow. 7PM, FREE.
WED Jan 23: The author of the much-anticipated novel that hipster publisher Jamie Byng termed "the hottest début novel on the planet," reads as part of Jami Attenberg's buzz-centric Class of 2008 Reading Series. In Brooklyn, Tony A. says, "the next Littoral, which will happen on 1/23, at 8pm, at the OA Can Factory, per usual. It will feature the poets Hal Sirowitz, Mike Topp, and a solo musical performance from ubiquitous polymath Cory McAbee, of Billy Nayer Show and American Astronaut fame."
THU Jan 24: Rush Arts Gallery presents an opening reception for "A Day in the Life: a Collection of Photographs Taken by the Young Women of GEMS." "GEMS provides preventive and transitional services to young women, ages 12-21 years, who are at risk for or involved in sexual exploitation and violence… GEMS was founded in January 1999 in response to the overwhelming need for services for young women at-risk for, or involved in, sexual exploitation who were slipping through the cracks of traditional agencies." Highly recommended. 6-8PM, FREE. At Film Forum, the highly influential Last Night in Marienbad shows through the end of the month.
FRI Jan 25: If you haven't seen "Lucian Freud: The Painter's Etchings," easily my favorite exhibition in a while, at MoMA, shake a leg already! And, the week-long Isadora Duncan dance intensive that I am taking at the 92nd Street Y evidently culminates in a "Fridays at Noon" performance.
SAT Jan 26: The restaurant of which I've said, "I like to eat Australian food like a piglet, and so I go to Tuck Shop quite a lot," hosts Australian Day! Not to be missed.
SUN Jan 27: KGB Sunday Night Fiction presents an evening with Hard Case Crime authors. Highly recommended. 7PM, FREE.
HOTLANTA READERS, take note: I love the sound of the Baby Got Books Reading Series Volume I, happening this Wednesday in Decatur. Check it out.