The Smart Set: Lauren Cerand's weekly events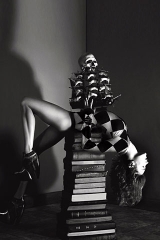 The Smart Set is a weekly feature, compiled by Lauren Cerand, that usually appears Mondays at 12:30pm and highlights the best of the week to come. Special favor is given to New York's independent booksellers and venues, and low-cost and free events. Please send details to lauren [at] maudnewton.com by the Thursday prior to publication, with the date in the subject line.
My access to the internet is out at home so I'm at a cafe for the moment, and The Smart Set will have to wait until I can once again work in the surroundings to which I've become accustomed. Until Tuesday evening or Wednesday morning, you might console yourself as I have by working through the stack in your film queue — the latest in mine being Tennessee Williams' & Elia Kazan's Baby Doll, featuring "some people of Benoit, Mississippi." On being offered a pecan: "I'd… never eat a nut that had been cracked in a man's mouth." "You have many… refinements."
UPDATED:
WEDNESDAY, 11.14: No excuse for staying in, working late, being dull, et al, so just pick one and go for it: Anne Landsman at McNally Robinson [Full disclosure, as always: I am Anne's publicist]. Yannick Murphy at Columbia University. Shin-Pei Tsay at the Storefront for Art and Architecture. Amanda Stern's Happy Ending Reading Series.
THURSDAY, 11.15: Louise Crawford (of Only the Blog Knows Brooklyn) drops an appealing line– "Poetry Punch, a delicious and heady mix of poetry at Brooklyn Reading Works on November 15th at 8 p.m. featuring Lynn Chandhok, Michele Madigan Somerville, Marietta Abrams, Zaedryn Meade (see below) and Cheryl B. at The Old Stone House.Fifth Avenue and Third Street in Park Slope. The house is an old stone building in JJ Byrne Park. Don't think you are lost. It's a house in a park." At Housing Works Used Book Cafe, "Chimamanda Ngozi Adichie, Marvin Bell, Susan Choi, and Matthew Rohrer come together to read in honor of The Iowa Review." (See also: Tift Merritt and the Rosewood Thieves to perform Friday night).
FRIDAY, 11.16: "Marissa Nadler plays Whitney Live Friday November 16th 2007 at 7:00 PM in the Lower Gallery. About Whitney Live: Whitney Live, the Whitney Museum's performance series, features a range of sensibilities and reflects the Whitney's commitment to American art past and present. Performers present new trends, reinterpret American traditions, and resonate with the Whitney's exhibitions and permanent collection." While there, don't miss the Kara Walker show.
SATURDAY, 11.17: Friend of The Smart Set Jim Browne (of genius outfit Argot Pictures) recommends, "NOTE BY NOTE: The Making of Steinway L1037, follows the progress of a Steinway concert grand – from forest floor to concert hall. It takes one year to finish one of these pianos which is made entirely by hand. Featuring interviews with world class-artists including Chinese phenom Lang Lang, Pierre-Laurent Aimard, Helene Grimaud, contemporary singer Harry Connick Jr. and jazz greats Hank Jones, Marcus Roberts, Kenny Barron and Bill Charlap." At Film Forum through November 20. And, currently on display at the New York Public Library, "Beatific Soul," (Can you dig that, daddy?) an exhibition exploring the work of Jack Kerouac through related ephemera.
SUNDAY, 11.18:Wesley Stace (aka John Wesley Harding) at KGB's Sunday Night Fiction. In Brooklyn, there's no better destination than Sunday Salon.