The Smart Set: Lauren Cerand's weekly events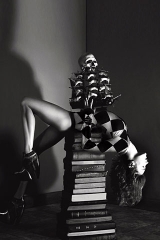 The Smart Set is a weekly feature, compiled by Lauren Cerand, that usually appears Mondays at 12:30pm and highlights the best of the week to come. Special favor is given to New York's independent booksellers and venues, and low-cost and free events. Please send details to lauren [at] maudnewton.com by the Thursday prior to publication, with the date in the subject line.
MONDAY, 11.5: Downtown, the Sierra Club presents a talk by author Daniel Lerch on "Post Carbon Cities," at John Street Church. 6:30PM, FREE. Uptown, at the 92nd Street Y, readings by David Markson and Will Self are introduced by Anne Beattie and Rick Moody (who will not be reading). 8PM, ticket prices vary.

TUESDAY, 11.6: Talents II, the second in a series of exhibitions showcasing new photography and art criticism from Berlin, opens at the Goethe-Institut, with an opening from 6:30 – 8:30PM, following an artist talk at 5PM. Both events are free and open to the public [Full disclosure, as always: I am the publicist for this exhibition, as well as the Goethe-Institut's new media documentary project, 1000stories.com].
WEDNESDAY, 11.7: Barnes & Noble presents the last show in its "Upstairs at the Square" series until 2008, featuring Nellie McKay, whose new album is Obligatory Villagers , and Antonio Monda, whose new book is Do You Believe? (although the New York Times Book Review may have described him as "the most well-connected New York cultural figure you've never heard of," you may recognize Monda from Wes Anderson's The Life Aquatic, in which he played himself), performing and discussing their work with host Katherine Lanpher [Full disclosure, as always: I am very involved with this series]. 7PM, FREE.
THURSDAY, 11.8: Author Ed Hamilton reads from his new book, Legends of the Chelsea Hotel, at 192 Books. Highly recommended. 7PM, FREE.

FRIDAY, 11.9: Paragraph presents an evening with authors Peter Godwin, whose new book is When A Crocodile Eats the Sun: A Memoir of Africa, and Anne Landsman, whose new novel The Rowing Lesson, is set in her native South Africa [Full disclosure, as always: I am delighted to be working with Anne to publicize her new novel, and I helped put together this event]. Reception with the authors to follow the reading. 8PM, FREE.
SATURDAY, 11.10: At the Museum of Modern Art, "50 Years of Helvetica" is currently on view.
SUNDAY, 11.11: Hey hippies, make a wish. As for actual plans, I'm been known to be partial to impromptu six o'clock martinis at the St. Regis. An even better reason to go to midtown: FIAF's weekend festival "Beur is Beautiful: Maghrebi-French Filmmaking."