The Smart Set: Lauren Cerand's weekly events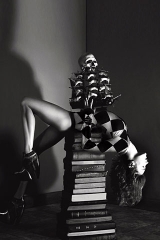 The Smart Set is a weekly feature, compiled by Lauren Cerand, that usually appears Mondays at 12:30pm and highlights the best of the week to come. Special favor is given to New York's independent booksellers and venues, and low-cost and free events. Please send details to lauren [at] maudnewton.com by the Thursday prior to publication, with the date in the subject line.
MONDAY, 10.22: BYOB, maybe expect candlelight, but definiely don't miss the "second-to-last Reader's Room at Mo Pitkin's, hosted by Emilie Stewart and Leigh Newman… a triple-play of in-progress work from new American voices: Sean Wilsey, author of the memior OH THE GLORY OF IT ALL (The Penguin Press), Charles Bock, author of the novel BEAUTIFUL CHILDREN (out in January from Random House) and Timothy Schaffert, author of the novel DEVILS IN THE SUGAR SHOP (Unbridled Books). What can you expect? New writing that will astonish you with its heartfelt virtuosity… Since Mo's will have formally closed, this reading will have a uniquely intimate feel. Please do come and help us end our time at Mo's with a joyous send-off, replete with fresh new writing and a simpatico audience, in one of the best spaces we can think of to hear literature read aloud." 7PM, FREE.
TUESDAY, 10.23: At Japan Society, it's "Authors on Asia: Godzilla & Japanese Culture." 6:30PM, $10.
WEDNESDAY, 10.24: Wednesday evening offers a skip it at your own peril edition of Amanda Stern's Happy Ending reading series. 8PM, FREE.
THURSDAY, 10.25: It is a known fact that I save all my valentines for the novella as a form. Christian Tebordo reads from his as part of "Impetus Press Night" at KGB on Thursday. 7PM, FREE. And Ken Foster reads at B&N Astor Place as part of his whirlwind tour through town. 7PM, FREE.
FRIDAY, 10.26: "Do it for Noam Chomsky." Royal Pink rocks Lit Lounge, along with The Violets. 10PM, $6.
SATURDAY, 10.27: Every day's a holiday when looking at Dorothea Tanning's landmark and enchantingly mysterious self-portrait, Birthday. It's on view in the permanent collection of the Philadelphia Museum of Art and the Chinatown bus is cheap, cheap, cheap. In New York, enjoy a quintessential downtown afternoon at the Ear Inn Reading Series. Because nobody drinks like poets. 3PM, FREE.
SUNDAY, 10.28: KGB's legendary Sunday Night Fiction series dedicates an evening to similarly acclaimed works-in-translation publication, Words Without Borders. 7PM, FREE.