The Smart Set: Lauren Cerand's weekly events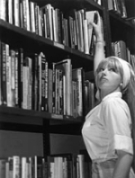 The Smart Set is a weekly feature, compiled by Lauren Cerand, that usually appears Mondays at 12:30pm and highlights the best of the week to come. Special favor is given to New York's independent booksellers and venues, and low-cost and free events. Please send details to lauren [at] maudnewton.com by the Thursday prior to publication, with the date in the subject line.
THE 'ONE LOVE' EDITION:
From Tony Antoniadis:
a show at Issue Project Room on July 3 at 8pm. It will feature separate performances by and a collaboration between Gibby Haynes (of Butthole Surfers fame) and Joe Wenderoth (best known for "Letters to Wendy's" and "The Holy Spirit of Life: Essays Written for John Ashcroft's Secret Self.") The performance will feature video, music, and reading, will take place at our new location at the Old American Can Factory at 232 3rd St (at 3rd Ave.) [NOTE: IN THE 718]. The event is a part of the Littoral Reading Series, which fuses writers and musicians whose work or methods of work contain similarities that might translate into great, unlikely shared bills on the stage…

Other past readers and musicians include Rick Moody, Hannah Marcus, Ben Marcus, Sam Lipsyte, Lynne Tillman, Marc Ribot, Christine Schutt, Mary Caponegro, John Haskell, Pure Horsehair, Diane Williams, Sarah Ibrahim, and Maria Chavez. Writers booked for fall include Deb Olin Unferth, Daniel Borzutzky, Amy Hempel, Jim Shepard, and Susan Daitch.
That's my pick for the week. The rest of it… mmmmm, pink hijinks, drinks?, methinks.