Hear Shalom Auslander speak (over my cackling)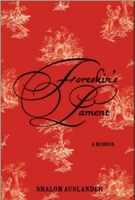 My Book Expo interview with Shalom Auslander is up.
While talking about his forthcoming memoir, Foreskin's Lament, we discussed: the many manuscripts he's destroyed to escape divine retribution; his sex-starved (and imaginary) shiksa high school girlfriend; Red Lobster as the pinnacle of trayf; and much more.
Auslander's humor comes across in the recording, but his deadpan delivery is only partly captured on tape, so my laughter seems slightly deranged. You'll have to ignore my incessant cackling if you listen.

(I've always detested the little-tinkling-bell chuckle that's meant to signify the amusement — or is that "amusement"? — of L-train-riding hipster females, but if this is what it sounds like when I laugh, I may have to rethink my stance.)