Postcard: Aunt Alma and the new puppies
Until all this family memorabilia came my way, I didn't know that many picture postcards sent in the early 1900s were photos of people's relatives.
Last week's shot of a scowling Martha Caroline and her barefoot granddaughters is an example, though it wasn't actually mailed.
Here's a cheerier one, of Alma Kinchen, my great-grandmother, holding three puppies. She didn't send it via post, but she did inscribe it: "The increase in my family — Aunt Alma." (The giant wart on her chin is just a discoloration.)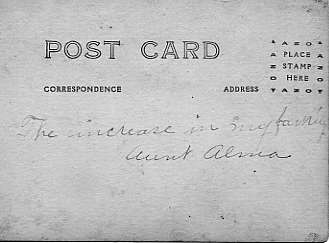 More postcard history: An Arcadia Publishing series traces the evolution of U.S. communities through postcards.