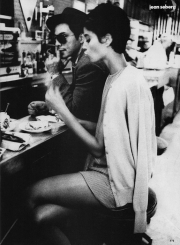 SUN, MAR 15: Lizzie "Elizabeth" Skurnick reads from Check-in — which I once bought a dozen copies of, and then resold them in ten minutes, it's that good — on Sunday evening at KGB, along with John Reed and Amy Koppelman. 7PM, FREE.>
THU, MAR 19: Jerry Stahl, who has a new blog called "Post Young" at the Rumpus ("But fuck it, I need to share.") reads from his new novel, Pain Killers, as part of the St. Marks Bookshop Reading Series, at Solas. 7:30PM, FREE.
ONGOING: "Building Code," the current exhibition of paintings on view at jen bekman, explores construction as a metaphor for minimalist abstraction among other things. The artist was inspired to turn to building sites after spending years painting suburban sprawl, which she photographed at an aerial view from a hot air balloon. Through April 4.
UPCOMING: The NYC Teen Author Festival, featuring Judy Blundell (What I Saw and How I Lied), David Levithan (Nick & Norah's Infinite Playlist), Justine Larbalestier (Magic or Madness), Scott Westerfeld (Peeps), Cecily von Ziegesar (Gossip Girl), Matthue Roth (Losers), Blake Nelson (Paranoid Park), and many others.