Wintry chili, cornbread, writing, agoraphobia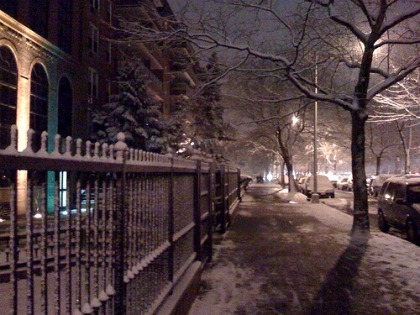 Asphalt always gets to me, but the malaise is never worse than after the leaves fall, before the first snow, when the trees are bare and the sky is dark and all I see when I look up and down Ocean Parkway from my terrace is gray, gray, and more gray.
Even as I narrow in on the end of my novel, I relate more and more to Joan Didion's feeling about the difficulty of writing in cities. The overstimulation, the crowds, the lack of natural beauty and the invisibility of the horizon — it's a good thing I have Wednesdays off, because if I had to venture out in today's cold and rain to cram my coat-clad body onto a train packed with a thousand other miserable, wintered-up New Yorkers, I would probably wind up at Penn Station, buying a ticket to Florida.
But I've got my mom's Tex-Mex chili* bubbling in the slow-cooker, and later I'll make some cornbread and some greens and a friend will come over for dinner, and we'll drink too much and talk about Muriel Spark, Amitava Kumar, and Geoff Dyer (and, I confess, astrology). I feel better just thinking about it.
For now, though, back to this godforsaken book I'm writing. I can't wait, can't wait to be done.

* Don't tell the Homesick Texan — the ultimate authority on Texas red — but it involves both beans and tomatoes.
Snowy Ocean Parkway photo credit: Max Clarke, 2009.