Agenda: more of the same, with Baldwin interlude
Apart from the occasional Twitter flurry, I'm really only doing one thing in my free time these days (getting closer, thanks for asking). With a few exceptions.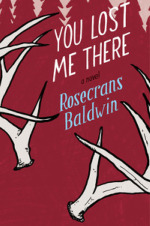 Next Wednesday, September 15, I'll ask Rosecrans Baldwin some questions following a reading from his smart, taut, very accomplished first novel, You Lost Me There, about a scientist whose memories of his screenwriter wife are upended by some angry notes he finds in her office long after her funeral.
Baldwin and I share an admiration for Iris Murdoch and Graham Greene, and I'm interested in the way You Lost Me There, like The End of the Affair, turns on the discovery of a woman's diary. We'll be at McNally Jackson at 7 p.m.