Talking with Sarah Waters uptown next month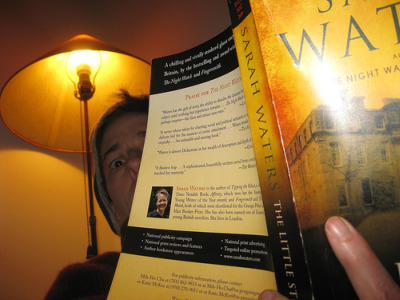 On June 17, I'll be talking with Sarah Waters at the Barnes & Noble Lincoln Triangle about her postwar haunted house story, The Little Stranger, possibly my favorite of her novels yet. It'll be tricky (but fun) to discuss the book without giving anything away. For the uninitiated: my appreciation appeared at NPR last summer.
For a writer so gifted at conjuring up worlds in which unspoken longings seem to manifest themselves as otherworldly phenomena, British novelist Sarah Waters is surprisingly dismissive of her own superstitions, which she sees as symptomatic of her lower-middle-class origins. Her grandparents worked as servants, her parents were the first in the family to attend grammar school, and the Tipping the Velvet and Fingersmith author learned early on to touch wood, cherish the Catholic saints, and worry that it would be bad luck to try to move too far beyond the station to which she was born.

Class anxiety is the animating force behind Waters' fifth book, The Little Stranger, a suspenseful and psychologically layered haunted-house story set in the aftermath of World War II, when the fading gentry collided with the emerging professional class that would once have been the help…
The photo above is of Alison Bechdel reading The Little Stranger in the wee hours. You might enjoy Bechdel's back-and-forth with her friend, Queer Theory Professor. Also, the lengthy Sarah Waters FAQ. Join us June 17, at 7:30 p.m.