NYC apartment living conducive to electronic books; or, where possible, please send galleys for iPad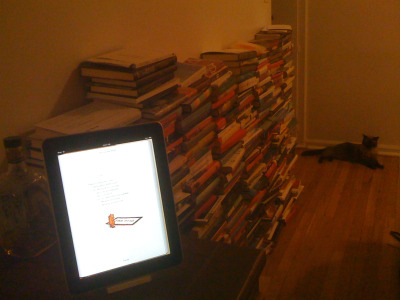 At night, when I get home from work, or from whatever I've done after work, I open packages from publishers. Then I stack most of the books* along this wall, behind the dining room table and next to the liquor credenza. Classy, I know. But it's an improvement.
At our old place, when the galleys piled up, Max and I had trouble getting to the pots and pans. The tower quickly grew into a fat square structure taller than our kitchen table that the cats enjoyed sunning on. We needed to rent or borrow a van before inviting guests over for dinner. Or, really, before inviting guests over at all.

When we fled Greenpoint rents and cramped quarters and bought a co-op two years ago, we chose a building with a part-time doorman, as a concession to the galley tidal wave. (Someone has to be around to sign for books while we do the things that actually pay the bills.) Luckily this apartment is huge** by New York standards, so it would take at least a year's worth of accumulation to impede our meals or the preparation thereof. Friends can eat sitting down and stand to put on their coats afterward even if we let the stacks grow, as we have recently, for a couple of months.
Evidently the old place is still getting slammed, too. Someone recently wrote to say: "I wanted to let you know that tons and tons and tons of packages come to our building every week, and piles of it collect." For the sake of those who who now live at my former address — and trust me, they need our sympathy for many reasons — let it be known far and wide that I no longer reside on Dupont Street.

See the glowing screen at left of the photo at the top of this post? It's a (poorly-lit) shot of my new iPad. I'm hoping to reduce some of the tsuris by going galley-digital.
I know many reviewers want to receive everything in hard copy, and under different circumstances I might prefer that, too, but it would be a great help if publishers could send me ebooks whenever possible from now on. Sometimes I might want a physical book, for one reason or another. But if I do, I can ask for it.
For the record, the Maud household has plenty of shelved volumes, too.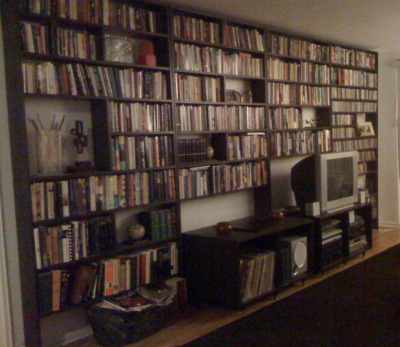 * The fact that a book is haphazardly shoved against the wall does not mean I have not read or will not read it.
** And has a terrace! If you're willing to move this far out, the living is easy.