The silence of a falling star: on Hank Williams' phrasing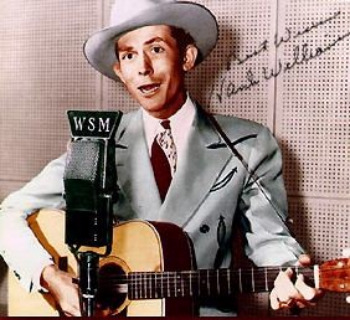 Over the years I've developed a bad habit of going over sentences again and again in my fiction because they don't quite sound right. By that I mean that the rhythm is off or the vowel sounds clash or an adjective is too bland or, worse, too "creative" in some overcomplicated or cutesy way that distracts from the flow of the story.
Occasionally I nail what I want to say, in the end, but often I walk away at least partly unsatisfied.

Because I think so much nowadays about construction of phrases at this obsessive level, I was fascinated by Dave Hickey's "The Song in Country Music," the entry for 1953 in Greil Marcus' and Werner Sollors' A New Literary History of America. Hickey focuses on the vast influence of Hank Williams' compressed songwriting following his death that year at twenty-nine.
The only people in Nashville who learned any positive lessons from Williams's career were the songwriters and the cowboys… The songwriters, many of whom were Texans and nurtured in the culture of the laconic West, took control of country songwriting by learning the compression of Williams's craft. That craft was the primary topic of conversation among songwriters of the period. When I asked Rogert Miller what it was about Williams's songwriting that touched him, he said, "Meticulous. They're meticulous and all hooked up." When I asked him what this meant, he sang me two lines from one of his songs.

The moon is high and so am I.
The stars are out and so will I be pretty soon.

"That's maybe a little too hooked-up," Miller said, and sang half a verse of "Me and Bobby McGee" a song by Kris Kristofferson and Fred Foster that Miller had discovered and recorded first.

Busted flat in Baton Rouge
Headed for the trains.
Feeling nearly faded as my jeans.

"That's hooked up," Miller said. "I love the 'as' that picks up 'flat' and bat.'"

When I asked Willie Nelson, he observed that Williams was less a 'songwriter' than a 'song-singer' who obviously sang songs in progress over and over until they came out right. Waylon Jennings said much the same thing. When I asked him about Williams' songs, he sang lines from two or three of them and showed me how the sounding of the consonants moved from the front to the back of the mouth so the vowels were always singable — you didn't have to stutter or swallow the words. Billy Joe Shaver, whose junior high school English teacher sent him off to the navy with books by Robert W. Service and Dylan Thomas, admired the way Williams's figurative poetry virtually disappeared into the facts of the narrative. "'Melt your cold, cold heart'… 'Today I saw you on the street/ And my heart fell at your feel'… 'The silence of a falling star/ Lights up a purple sky.' Like that," Shaver said. "The closest I got was 'I'm just an ol' chunk of coal/ But I'm gonna be a diamond some day,' which could describe one of Hank's songs."

Harlan Howard, the most meticulous of country songwriters after Hank Williams, went into more detail. He sang the first verse of "Cold Cold Heart."

I try so hard my dear to say
That you're my every dream.
Yet you're afraid each thing I do
Is just some evil scheme
Some mem'ry from your lonesome past
Keeps us so far apart.
Why can't I free your doubtful mind
And melt your cold, cold heart

Howard then pointed out what Roger Miller meant by hooked up. He explained that those eight short lines were invisibly held together by fifteen internal r phonemes. There are triples in the first two lines, four pairs, and the terminal "heart" that gives the verse closure. "Nobody notices this," Howard said. "That's the idea, but once these words are put together this way, they don't come apart."
The whole essay is worth seeking out. (And here's Laura Miller's review of the anthology.)

In the clip below, you can watch Roger Miller, on Johnny Cash's show, creating his own hilarious and bawdy hooked-up verse about a piece of twine.
Image of Hank Williams taken from The Austin Chronicle.