Brooklyn Book Fest: Literature in a digital age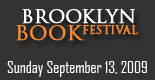 A friend who heard my soundbite on WNYC earlier wanted details on the Literature in a Digital Age panel I'm moderating tomorrow at the Brooklyn Book Festival, so I thought I'd post them here, too.
The panelists are John Freeman, Dwight Garner, and Sarah Schmelling. Given the topic, it should be a fun, wide-ranging discussion in which no one agrees with anyone else. (My own thoughts won't be at the forefront; if you're curious, read When is a book not a book?)
Our panel gets started at 1, but the festival runs all day. Tons of great writers, some of whom are friends of mine, appear at times that conflict, so I'll just point you to the schedule, and you can take your pick.