Trouble in Greenpoint on Thursday, the 18th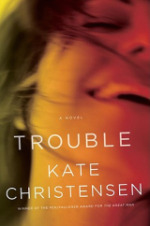 Next Thursday night I'll be drinking sangria, eating sorbet, and interviewing Kate Christensen — first idol, now friend — about Trouble, at WORD bookstore in Greenpoint, at 7:30 p.m. She calls this novel, her fifth, her beach book. I devoured it over the winter almost as quickly as I did the others, except I stopped in the middle to meet her for dinner.
That's not Kate's photo on the cover, by the way, although if you've met her you can see why even her own mother was confused.
In other Christensen news: last night she appeared on All Things Considered to discuss her guilty reading pleasures.