The Smart Set: Lauren Cerand's weekly events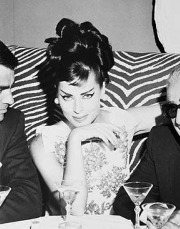 The Smart Set is a weekly feature, compiled and posted by Lauren Cerand, that usually appears Mondays at 12:30 pm, and highlights the best of the week to come. Special favor is given to New York's independent booksellers and venues, and low-cost and free events. Please send details to Ms. Cerand at lauren [at] maudnewton.com by the Thursday prior to publication. Due to the volume of submissions, events cannot be considered unless the date appears in the subject line of your message.

The "Summer Lovin'" Edition
MON, JUN 29: New Yorker editor Ben Greenman wraps up his tour for Please Step Back, with a talk on indie publishing and creative collaborations — include his recent limited editions for Jack Spade and Hotel St. George — with Opium's Todd Zuniga. Afterwards, we'll all go out for a drink, and I'll be free from professional obligations requiring me to appear in public for six weeks. Cheers to that [Full disclosure, as always: I am Ben's publicist]. At Barnes & Noble, Tribeca (corner of Warren and Greenwich). 7PM, FREE.
TUE, JUN 30: Join Suketu Mehta, Simon Winchester and Lewis Lapham for short readings and a wine reception to celebrate the launch of the Travel issue of Lapham's Quarterly, at Idlewild Books. 7PM, FREE; rsvp to events@idlewildbooks.com. In Brooklyn, " Afghanistan Stories, a fundraiser for war orphans in Kabul, at Belleville Lounge, 332 5th St (at 5th Ave) in Park Slope. Introduction by David Ellis Dickerson, who has opened for David Sedaris and appeared on NPR's 'This American Life.' Hosted by Veterans for Afghanistan founder and director, Kristen L. Rouse. Includes Masha Hamilton, author and founder of the Afghan Women's Writing Project, and Marco Reininger, whom you might have seen in Newsweek along with Stephen Colbert." 8PM, "$10 suggested donation, + 1 drink/food item minimum."
And then…
JULY 5: "Cumbia became popular in Colombia in the 1950s — a mix of African and indigenous rhythms, it quickly spread to the rest of Latin America and became especially popular in Mexico, Peru and Argentina where it was adapted to fit the local taste… From Monterey's rebajada to Buenos Aires' digital cumbia, young musicians are recycling their grandparents' music and launching a global musical wave reminiscent of the late 1970s Ska movement. WFMU and Barbes Records are joining forces to present two of North Americas pre-eminent cumbia bands. Very Be Careful from LA and Chicha Libre from Brooklyn — as well as DJs (tba) representing old school and digital cumbia." At The Bell House. 8PM, $10.
JULY 8: Amanda Stern's Happy Ending Reading & Music Series at Joe's Pub explores "CONFESSION & JEALOUSY, STARRING: Nick Laird, Binnie Kirshenbaum and Kevin Canty. MUSICAL GUEST: Elvis Perkins." 7PM, $15 tickets.
JULY 11: "The Museum of Arts and Design and Museum of the Moving Image have announced the launch of a new film series celebrating the 50th anniversary of the French New Wave. The series, entitled French New Wave Essentials, will present the best and most influential films of this period, many being shown in recently restored 35mm prints. Ranging from timeless masterpieces such as Jean-Luc Godard's Breathless and Francois Truffaut's The 400 Blows to rarely seen works including Agnes Varda's films Cleo from 5 to 7 and Le Bonheur, screenings will be held at the Museum of Arts and Design at 2pm and 4pm each Saturday and Sunday from July 11 through August 30."
JULY 12: The maverick hipster indie pranksters behind Featherproof bring "The Dollar Store Show Super Summer Tour" to The Slipper Room. Essential. 8PM, $1.
JULY 15: Samuel Delany reads at KGB. 7PM, FREE. At jen bekman, "Summer Reading" opens. 6-8PM, FREE.
JULY 20: "Little House on the Bowery Event: Bluestockings, 7pm, Derek McCormack reads from The Show That Smells (w/ Edmund White)" (via Dennis Cooper).
JULY 22: Jessica Hopper presents The Girls Guide to Rocking at Barnes & Noble, Greenwich Village. Related: Sasha Frere-Jones at The New Yorker wonders what it's like to be a girl in a band and compares the new Sonic Youth single to Hopper's infomercial. 7:30PM, FREE.
JULY 31: "Sean Dorsey, winner of two Isadora Duncan Dance Awards and the Goldie Award for Performance, and a stellar cast of dancers chase the naked truth in Uncovered: The Diary Project. Using text from actual, real-life diaries, Uncovered's powerful dances reveal lives and stories that history has tried to erase. Out spill diary secrets, bathhouse antics, outrageous love, pop idols, misadventures, impossible courage and the importance of documenting and sharing our history." At Dixon Place as part of the HOT! Festival Queer Performance and Culture. 8PM, $20 tickets.
AUGUST 6: At Revolution Books, Melvin Van Peebles' book release party for Confessions of a Ex-Doofus-Itchyfooted Mutha, the new graphic novel by the legendary filmmaker, playwright, actor and artist. 7PM, FREE.
AUGUST 18: "Upstairs at the Square" presents Regina Spektor (Far) and Kurt Andersen (Reset), with host Katherine Lanpher at the Union Square Barnes & Noble [Full disclosure as always: I am very involved with this series]. 6PM doors, 7PM show, FREE.
ONGOING: Lover, at On Stellar Rays through July 23 (when there will be a closing party from 6-8), Iran Inside Out at the Chelsea Art Museum, and of course, if you haven't seen Japanther live, your life isn't fun yet, but there's a remedy for that; catch the duo at an upcoming show.
Go somewhere new, make mistakes worth repeating, take a chance or two. The Smart Set returns after Labor Day.