The Smart Set: Lauren Cerand's weekly events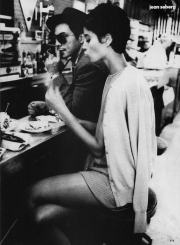 The Smart Set is a weekly feature, compiled and posted by Lauren Cerand, that usually appears Mondays at 12:30 pm, and highlights the best of the week to come. Special favor is given to New York's independent booksellers and venues, and low-cost and free events. Please send details to Ms. Cerand at lauren [at] maudnewton.com by the Thursday prior to publication. Due to the volume of submissions, events cannot be considered unless the date appears in the subject line of your message.

"The Coast-to-Coast Edition"
JUNE 1: Contributors to Because I Love Her, a new anthology with the most charming trailer I've seen yet, convene at Bookcourt. Afterparty with drinks and bocce to follow. 7PM, FREE. Brooklyn Independent's line-up includes "a revealing documentary portrait of filmmaker Harmony Korine during the production of his third feature film, Mister Lonely. Shot on location in Scotland, Paris, and Panama." At Barbes. 7PM, FREE.
JUNE 2: Chic-chic indie Idlewild Books hosts a launch party for the new paperback of Roxana Robinson's acclaimed novel, Cost, which tells the story of a Brooklyn musican descent into heroin addiction and how it all falls apart for his family one summer in Maine. Here's her Largehearted Boy playlist for the book, which she made with the help of this dude [Full disclosure, as always: I have done PR for both Roxana and Idlewild]. 7PM, FREE. And, "The Australian Consulate General invites you to celebrate the publishing of David Francis' second novel Stray Dog Winter, published in the US by MacAdam/Cage. The novel has received a Fellowship of Australian Writers National Literary award Commendation and is a LAMBDA Literary Award finalist. 6-8PM, FREE, RSVP essential (212) 351-6550." Ben Greenman, who has of late discussed strippers in Portland and recommended the Gowanus Canal, continues his winning streak with an appearance in conjunction with his new novel, Please Step Back, at Community Bookstore in Park Slope [Full disclosure, as always: I am Ben's publicist]. 7PM, FREE.
JUNE 3: This Wednesday marks the first edition of Amanda Stern's Happy Ending series at Joe's Pub that I know of where there are tickets available the week of the show, which means, you can go. "Ideas & Inventions Night" features Tristan Perich, Samantha Hunt and Dan Rollman. Highly recommended. 7PM, $15 advanced tickets essential.
JUNE 4: At Nublu, a party for an important cause: Ghana Health and Education Initiative's Program For Girls' Empowerment. "Awesome drink specials, amazing DJ Matt Lament and live music!" 8-11PM, $12 donation goes directly to the program.
Thursday evening IN LOS ANGELES, the ALOUD LA at Central Library series hosts Philip Lopate and David Ulin in conversation on Susan Sontag. 7PM, FREE. Wish I could make that one! If I were in LA, I would also be saving the date for the next Vermin on the Mount on June 14.
JUNE 5: Friday, new geography, as, I'm going to CHICAGO for Jean Thompson's Do Not Deny Me launch party (hot show poster and all!), hosted by my friends at Featherproof at the Book Cellar. Please join us if you're in town as I barely know a soul! Do not deny me! [Full disclosure, as always: I am Jean's publicist.] 7:30PM, FREE.
JUNE 6: Saturday night, also IN CHICAGO, Ben Greenman hosts a special edition of the Happy Ending Reading Series, with Arthur Phillips, Nami Mun & Joe Meno. Musical guest Daniel Knox, at the Charleston. 7PM, FREE.
All weekend long in New York: the 2009 Woolf and the City conference, which includes a Friday night performance by the West Coast Bloomsbury-influenced indie pop outfit, Princeton. Don't miss it!
JUNE 7: A good day to chillax.