Cuts looming for NYC libraries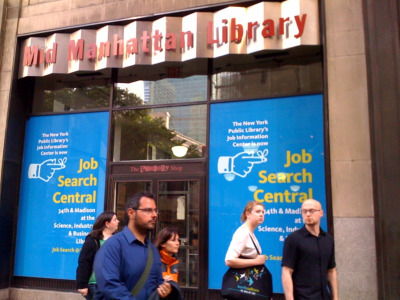 The recession is already overwhelming the city libraries. Patrons are searching for jobs and borrowing vastly more books and videos. Sometimes, now that they're out of work and no prospective employers are calling, they're just looking for a place to hang out.
At the Mid-Manhattan branch a couple weeks ago, the check-out line was three times as long as I've ever seen it, and every chair was filled.

Something like a quarter of the city's librarians — some of them friends of mine — are going to lose their jobs in the next few months unless the budget is restored. Service hours will be cut way back; vastly fewer books will be purchased; after-school programs for kids may be in jeopardy.
I know the city is strapped, but these are the kind of funding decisions that really affect neighborhoods. When desperate people can't be in the libraries, they'll be on the streets. For details about the proposed cuts and the overwhelming uptick in library usage, see the Open Letter from a New York City Librarian I posted last month.

It'll be another week before the numbers are set in stone. If you haven't yet, please contact your City Council members and the Mayor — follow the directions here and here, and sign here.