The Smart Set: Lauren Cerand's weekly events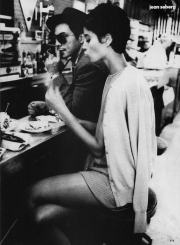 The Smart Set is a weekly feature, compiled and posted by Lauren Cerand, that usually appears Mondays at 12:30 pm, and highlights the best of the week to come. Special favor is given to New York's independent booksellers and venues, and low-cost and free events. Please send details to Ms. Cerand at lauren [at] maudnewton.com by the Thursday prior to publication. Due to the volume of submissions, events cannot be considered unless the date appears in the subject line of your message.

TUE, MAY 5: I should probably do something really edgy and fabulous tonight, like have a couple of drinks at Angel's Share and call Maud on the phone and sing Frankie Goes to Hollywood songs.
WED, MAY 6: The Asian American Writers' Workshop says, "Please join us for an intimate evening with writer Ha Jin, winner of the National Book Award and the PEN/Faulkner Award for Fiction. The Workshop is proud to welcome Jin and to present the public with a rare opportunity to meet the author at a classic West Village penthouse with wraparound terrace that has hosted Barack Obama, Bill Clinton and Yo-Yo Ma. This special event focuses on Jins newest book, Writer as Migrant, published by the University of Chicago Press." Sounds really nice and what a good cause plus also cocktails! Highly recommended. 6:30PM, tickets $25-45.
THU, MAY 7: Jonathan Baumbach is introducing a screening of Rohmer's Autumn Tale, which overlaps in intriguing ways with his latest novel, YOU or The Invention of Memory, at BAMcinematek, as part of the Late Film Series. The New York Times, The New Yorker and Time Out New York have all listed this as a standout, and another good reason to go is that, as I did instantly, you will most likely develop a total professional crush, henceforth known as a "pro crush," on curator Jake Perlin, who does all that just during the day and then he goes home and does The Film Desk and the new film issue of The Believer and how does he even find the time? SIGH. Anyway, you should find the time to join us, it will be fun and all the best people in New York will be there [Full disclosure, as always: JB is one of my PR clients]. 6:50, tickets $11, advanced purchase strongly suggested.
FRI, MAY 8: Janice Erlbaum (Girlbomb: A Halfway Homeless Memoir, Have You Found Her) is hosting GEMS' tenth birthday party. GEMS helps girls in New York get out of the domestic sex trade. Teen writers in the program will read from their original writing alongside GEMS founder Rachel Lloyd whose memoir is forthcoming from HarperCollins. At Bowery Poetry Club. I'm there. 6PM, $10 donation suggested at the door. Later on that evening, I'm going to buy some not-too-exey first editions from Barney Rosset's personal collection. How cool is that?
SAT, MAY 9: Falconworks, which helps to create theater for and by communities, presents "the Spring 2009 edition of 'Off the Hook: Original Plays by Red Hook Kids.' Friday May 8 at 7:00 p.m. Saturday, May 9 at 3:00 p.m. The Patrick Daly School — PS 15, 71 Sullivan Street (between Van Brunt and Richards), Red Hook. Also in Brooklyn, Light Industry presents "An Evening with Hara Kazuo — Extreme Private Eros: Love Song 1974 Hara Kazuo, 16mm, 1974, 98 mins — For this rare in-person appearance, Hara will introduce and discuss his autobiographical film Extreme Private Eros: Love Song 1974, an ultra-personal diary centering on his ex-girlfriend, radical feminist Takeda Miyuki. Not long after their breakup, Hara decides to follow her around with his 16mm camera as an unlikely way to continue their relationship… Hara's event takes place in conjunction with the release of his first English-language book, Camera Obtrusa: Hara Kazuo's Action Documentaries, published by Kaya Press." 7:30PM, Tickets – $7, available at door.
SUN, MAY 10: Sleep late, walk in the park, or whatever. Write a letter that you'll never send, and then SEND IT.