The Smart Set: Lauren Cerand's weekly events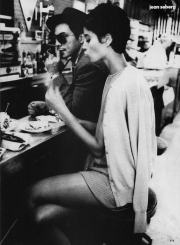 The Smart Set is a weekly feature, compiled and posted by Lauren Cerand, that usually appears Mondays at 12:30 pm, and highlights the best of the week to come. Special favor is given to New York's independent booksellers and venues, and low-cost and free events. Please send details to Ms. Cerand at lauren [at] maudnewton.com by the Thursday prior to publication. Due to the volume of submissions, events cannot be considered unless the date appears in the subject line of your message.

MON, Apr 27: John Wesley Harding (Who Was Changed and Who Was Dead) and Laura Lippman (Life Sentences) are featured "Upstairs at the Square" with host Katherine Lanpher [Full disclosure, as always: I am very involved with this series]. 7PM, FREE.
TUE, Apr 28: Other Means celebrates its two-year anniversary as Glenn Kurtz (Practicing) and David Rothenburg (Thousand Mile Song) read in support of nonprofit arts presenter The Tank. 8PM, $5 suggested. Also, that movie with Stringer looks good, doesn't it?
WED, Apr 29: Australian novelist Brian Castro tours New York in support of his Shanghai Dancing (Kaya Press) — described by the Sydney Morning Herald as "one of the most unusual and ambitious Australian novels of recent years" — with a reading at New York University's Asian Pacific American Institute. 6PM, FREE (he's also at Asian American Writers Workshop on Thursday).
THU, Apr 30: PEN World Voices devotes an evening to the music of composer Daniel Felsenfeld: "Using the creepy, love-struck, sexual, and elegiac words of Kenneth Koch, Comte de Lautréamont, and Jonathan Lethem—and featuring readers and performers, Mark Z. Danielewski, Rick Moody, and Wesley Stace." 7PM, "entry by donation." In Brooklyn, Japanther plays a benefit for Automotive High School. Highly recommended.

FRI, May 1: The Marvelous Ms. Maud Newton, patron saint of The Smart Set, hosts "Powerful Women," an evening "exploring unusual manifestations of female power: Novelist Marlon James reads briefly from his acclaimed (and magnificent) novel, The Book of Night Women, alongside fellow writer Marie Mockett (of the excellent forthcoming novel Picking Bones from Ash). Photo-documentarian Stephanie Keith will present a slideshow featuring a Voodoo high priestess she's been following. At Housing Works. 7:30PM, FREE, but donated books suggested as the price of admission. And, Laila Lalami, whose new novel is Secret Son, is in town for "Season of Migration to the North: The Work of Tayeb Salih," happening at Scandinavia House as part of PEN World Voices. 6PM, FREE.
WEEKEND: My favorite new store, Ale at Ange, is worth a stop. Project No. 8 is also good in the neighborhood. While you're over there, I'll be frosting the glass with my desire at Zero Maria Cornejo. Saturday night, Idlewild Books hosts a Nordic Lit (Aquavit) Party with authors Jan Kjaerstad (The Conqueror) and Morten Ramsland (Doghead) and NO READING, JUST BOOZE AND WRITERS [Full disclosure, as always: Idlewild Books is one of my publicity clients] 6PM, FREE. And, in Brooklyn, gifted poet Lila Zemborain reads for Noemi Press at Stain Bar (note: followed by "Sad Songs for Happy People" at 10PM).
Upcoming: I'm having a party. You should come.