The Smart Set: Lauren Cerand's weekly events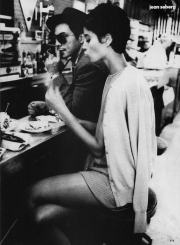 The Smart Set is a weekly feature, compiled and posted by Lauren Cerand, that usually appears Mondays at 12:30 pm, and highlights the best of the week to come. Special favor is given to New York's independent booksellers and venues, and low-cost and free events. Please send details to Ms. Cerand at lauren [at] maudnewton.com by the Thursday prior to publication. Due to the volume of submissions, events cannot be considered unless the date appears in the subject line of your message.

MON, Apr 20: Stained Glass Confessional "brings to the intimate stage of Stain Bar some of the freshest and more talented poets and acoustic musicians in New York City." Monday evening's guests are poets Laurel Kallen, Nina Karacosta, and Jessica Reed and musicians Lizzah Lohse, James Skidmore, and Mike Fiorito, with hosts James Kass and Janice Brabaw. Noted, "This is also our book release party for the chapbook anthology Best of Stain which features many of the writers and performers who have joined us at Stain Bar." 7PM, FREE.
TUE, Apr 21: The Pacific Standard Fiction Series presents featuring writers Ed Park and Nathaniel Rich and "Drink specials selected by dartboard!" 7PM, FREE.
WED, Apr 22: Nice things to do: the planetarium, cherry blossoms.
THU, Apr 23: Cristina Henríquez reads from her new novel, The World in Half, at Barnes & Noble, Tribeca [Full disclosure, as always: Barnes & Noble is one of my publicity clients for its "Upstairs at the Square" series, unrelated to this event]. 7PM, FREE. And, in Brooklyn, A Public Space fetes the cruelest month with the first of three poetry readings. 7PM, FREE. Also, The Center for the Humanities launches A Celebration of the Chapbook, through Saturday. FREE.
FRI, Apr 24: Nobel Prize winner Jean-Marie LeClezio, whom I currently have a literary crush on because of this passage, appears in conversation with Adam Gopnik at the 92nd Street Y, as part of the PEN World Voices Festival. 8PM, $25 tickets. Plus, a Release Party for Issue #6 of New York Tyrant at Bar Nine in Hell's Kitchen (Ninth, between 53/54) with music from Doppelganger, Demonlover and The Choke. 9PM, "$15 cover includes a copy of the latest issue, featuring work from: Daryl Scroggins, Ronald Hobbs, Jody Barton, Greg Mulcahy, Erich Hintze, Scott Garson, Christopher Kennedy, Jesse Ball, Daniel Grandbois, Cooper Renner, Michael Hemmingson, Darby Larson, Karl Taro Greenfeld, Christine Schutt, Ken Sparling, Robert Lopez, S.G. Miller, Atticus Lish, Michael Leone, Kim Chinquee, Anthony Luebbert, Rachel Sherman, Jason Snyder, Justin Taylor, Jessica Anya Blau, and an interview with Diane Williams by Kevin Sampsell."
SAT, Apr 25: The Enclave presents writers Pasha Malla, Zachary Mexico and Abram Lynch at Cake Shop. 4PM, FREE.
SUN, Apr 26: "South African restaurant Madiba in Fort Greene will host a discussion with four South African authors: Anne Landsman, Sheila Kohler, Nadia Davids, and Ceridwen Dovey. There will be drinks specials and live music. Please join us in celebrating South African Freedom Day [Full disclosure, as always: I publicized Anne Landsman's novel, The Rowing Lesson]. 7PM, FREE.